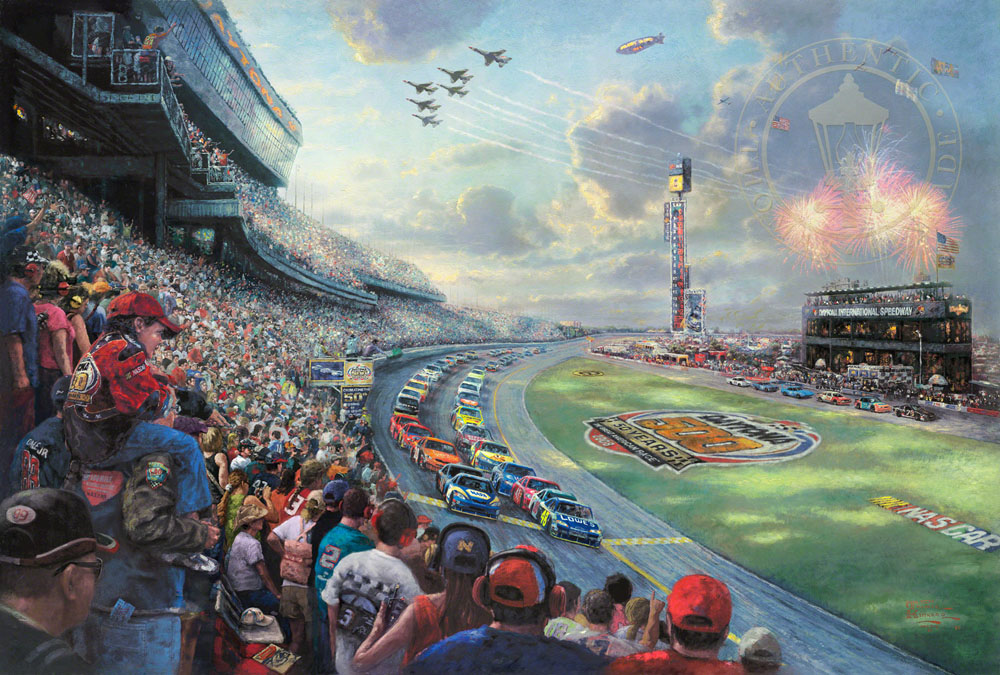 For a unique Father's Day gift, at Thomas Kinkade in Carmel, Monterey and Placerville, California, we have a vast selection of paintings dads will love. Whether you are looking for a present for a grandpa, dad, husband or father figure, when you visit one of our galleries, our friendly art consultants will help you choose the perfect gift.
Paintings For The Sports-Loving Dad
Does your dad love a beautiful day of golfing? Let him enjoy the excitement of the game Kinkade's painting, Living Waters. Does the thrill of NASCAR® racing put a smile on your grandpa's face? He can join the crowds as the 50th running of the Daytona 500® gets underway in the painting, NASCAR Thunder. At our California Thomas Kinkade galleries, we have the perfect Father's Day gift for the sports lover in your life.
Gifts For The Great Outdoorsman
Thomas Kinkade is a master at capturing the majesty of the great outdoors in his paintings. Whether the special father figure in your life loves the serenity of a cozy cabin nestled in the woods, hiking among towering mountains, or fishing at his favorite stream or lake, consider getting him one of these paintings from the Great Outdoors collection:
A Little Magic For Your Super Hero
Maybe your husband hasn't defeated the villains of Gotham City or battled Lex Luther, but he knows how to save the day in his own special way. Find an awesome Father's Day gift for the hero in your life with one of these paintings from the DC Super Hero Fine Art collection:
A Gift To Last Generations
Let your dad know how much you love him by getting a Father's Day gift that will last for generations. Each Limited Edition painting is made on premium hand-stretched canvas with vibrant, UV resistant colors. Not only will the art look great on any wall for years, but it'll make a beautiful heirloom.
Get The Best Father's Day Gift This Year
Don't get the dads in your life an ordinary gift this year. The deserves the best because they are the best. At the Thomas Kinkade galleries in Monterey, Carmel, and Placerville, we'll help you select a thoughtful gift that'll let them know how much they mean to you. Visit our art galleries today to find paintings dads will love.