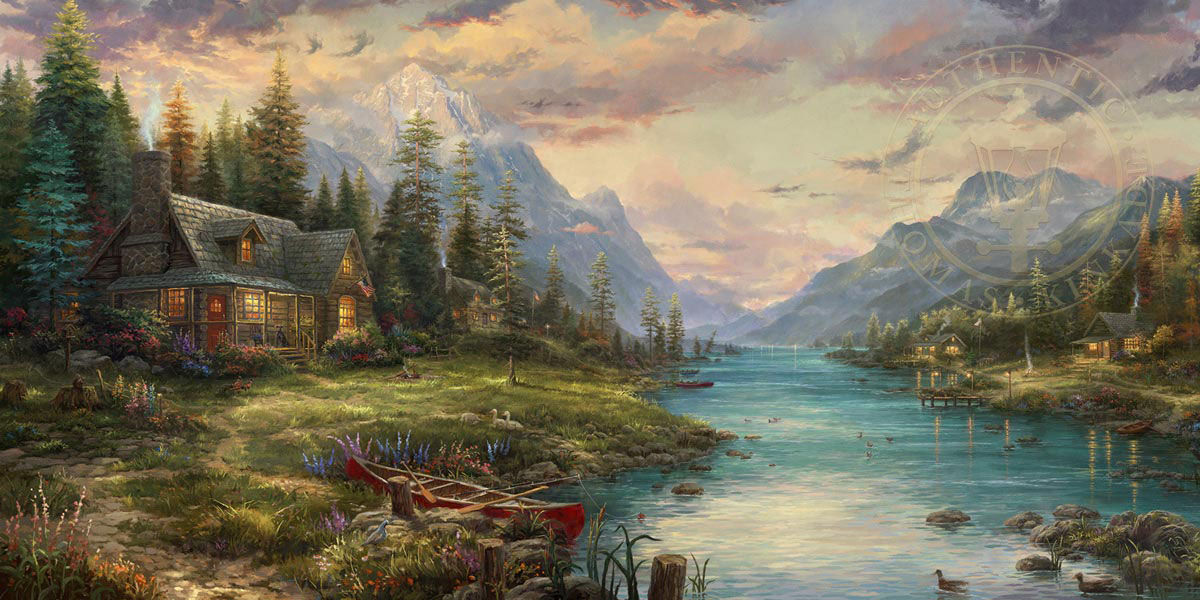 Art Notes
Thomas Kinkade Studios is pleased to present A Father's Perfect Day, an awe-inspiring piece to commemorate our love and affection for fathers everywhere on Father's Day.
As the morning fog dissipates from the valley floor, all manners of life emerge to greet the sun as it paints its way through the clouds with a pallet of pastels. While ducks congregate, effortlessly trolling the glacier meltwater for food, cabin lights come on one by one. While dad pours his morning coffee, excitable little voices can be heard clearly from across the stream; children beckoning their fathers for another day of inquisitive wonder. Beautiful scenes, such as this one, are like memories, they do not simply happen, but rather they are thoughtfully designed.
Beautiful scenes, such as this one, are like memories, they do not simply happen, but rather they are thoughtfully designed. These are special times, when families can leave behind the hustle and bustle of life, like the smoldering remnants of yesterday's campfire, as the day offers a host of new adventures.
Like the overlooking, ever-watchful mountains, fathers stand strong and tall, offering protection for the ones they love. It is places like these that sons and daughters learn how to row a canoe and bait a hook, but more importantly, how to live in peaceful unity with nature.
Key Points
This small community of American flag-laden cabins reminds us of the God-given freedoms handed down to us from our forefathers, reminding us to pursue happiness.
This piece contains a full spectrum of wildlife; squirrels, pheasant, ducks, quail, and even man's best friend, a black lab, who sits quietly observing his new surroundings.
In this moment, only the tips of the tallest pine trees are christened by the early morning sun.
Further, into the backdrop, other cabin lights can be seen reflecting off of the milky turquoise water.
A banjo, propped up against a creaking rocking chair, becomes visible as the hiss of the old lantern is lit..
Here, you can choose your own adventure. Will it be a day of hiking? Relaxing on the porch? Or, maybe, a full day of fishing.
On the banks of this small stream, fathers teach their families to trust in one another, so that when the waters get choppy and waves begin to whitecap they can stick together.
For dads, these are moments that pay dividends. They are deep investments into the life of their families. These are moments that forge an unbreakable bond with their children, a bond that they will never forget.
Copyright: © The Thomas Kinkade Estate
Title A Father's Perfect Day
Painted May 2017
Published May 2017
Classification Thomas Kinkade Studios