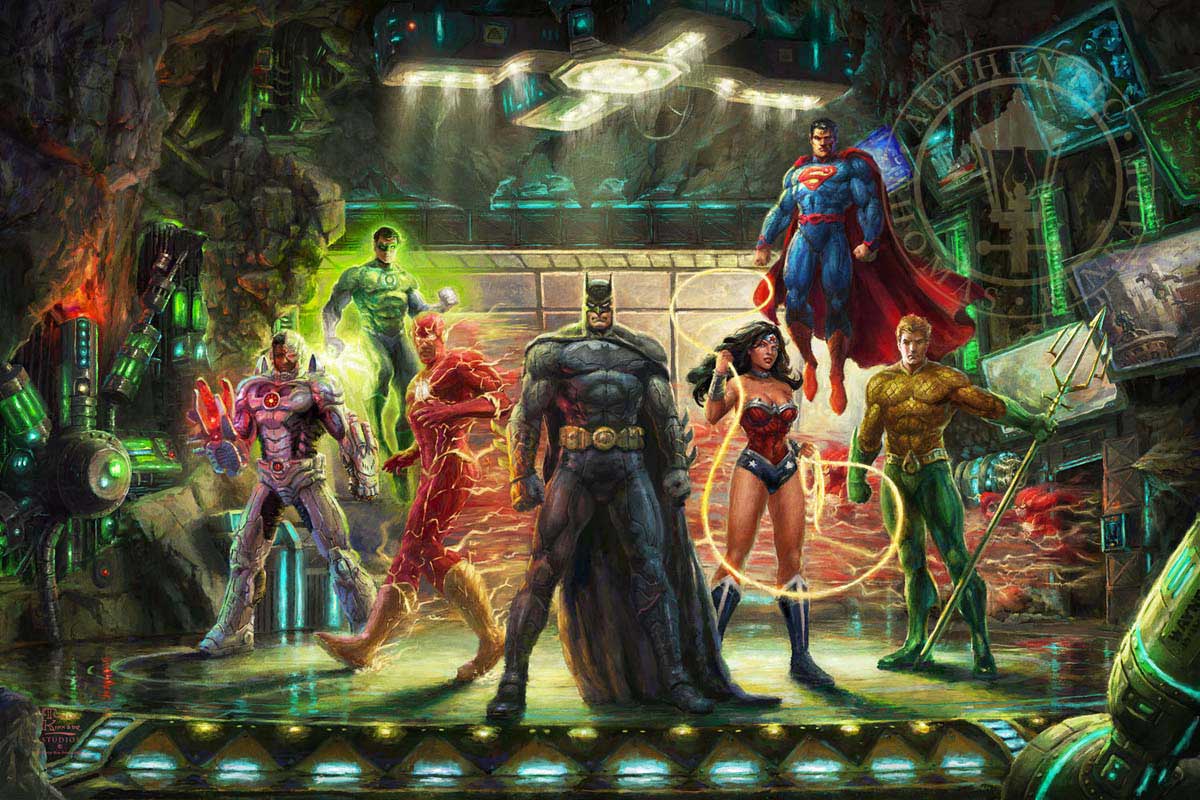 Art Notes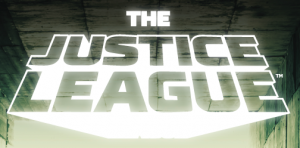 For decades, DC fans have been kept on the edge of their seats with the heroic tales of this high-flying action-packed ensemble. Now the entire team, in all their glory, is depicted in an electrifying painting by Thomas Kinkade Studios – The Justice League.
This scene is set inside their legendary Secret Sanctuary. Here they prepare, standing poised and ready to protect the world from anything and anyone that threatens its safety.
Key Points
The Justice League is the first Limited Edition Art by Thomas Kinkade Studios that features all of the members of this legendary team of Super Heroes.
Gotham City Caped Crusader, Batman, stands front and center as the painting's larger-than-life main character.
As the team stands poised and ready to do battle, The Flash enters, bringing his trail of energy to the composition.
Armed with her Golden Lasso of Truth, Wonder Woman is prepared to capture and defend the truth, while she fights to restore humanity.
Part man and part machine, Cyborg's mechanically-enhanced body and integrated weapons make him an unstoppable Super Hero.
The Green Lantern's unmistakable iridescent glow lights up the backdrop of the Secret Sanctuary.
For over 70 years, Aquaman, the king of Atlantis, has exercised his dual-citizenship on both the soil and in the water. His role strengthens the Justice League of America creating a true, land, air, and sea assault.
Superman hovers above, both in the painting and in the heart of fans everywhere. His presence brings completion to the team and protection to those in danger.
Both the primitive and sophisticated features of the Secret Sanctuary are portrayed in this one of a kind collector's piece.
As one TV screen replays the news coverage of the fight between Superman and Doomsday, the other monitor captures the outside of the Secret Sanctuary.
The recognizable name of Wayne Industries is stamped on the machinery in the bottom right-hand corner of the painting.
Copyright: © & TM DC Comics. (s17) © The Thomas Kinkade Estate.
Title The Justice League
Painted April 2017
Published April 2017
Style Narrative Panorama
Classification Thomas Kinkade Studios