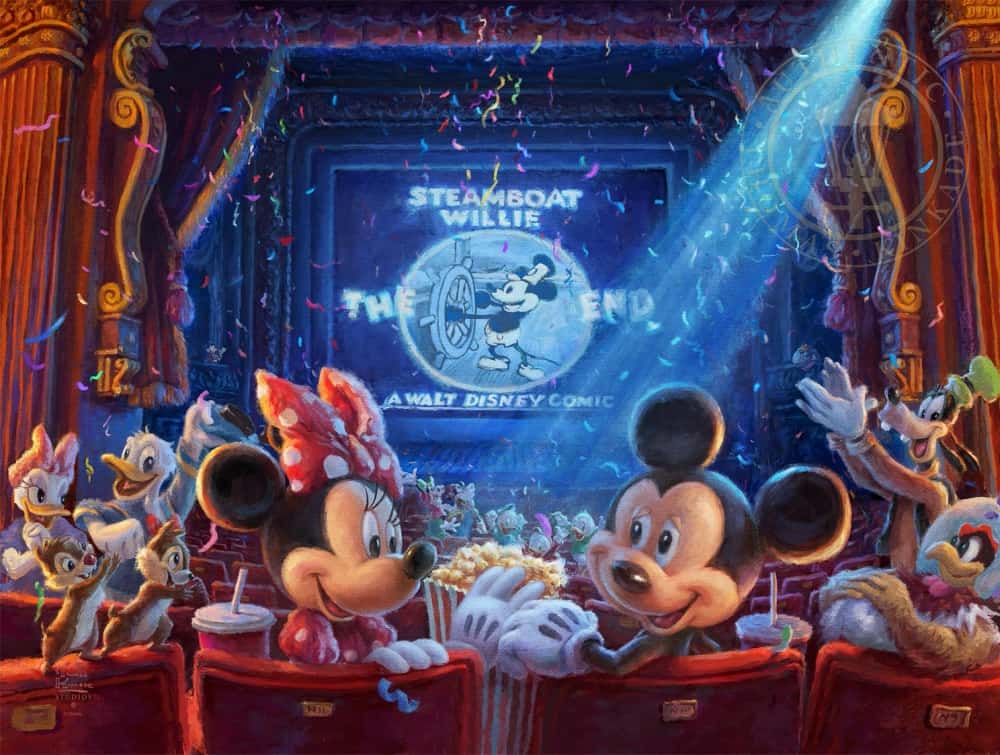 The California Thomas Kinkade galleries, are pleased to offer you beautiful movie art for home theaters. Transform your media room with Limited Edition paintings. Transport viewers into exciting stories and new adventures.
Whether you enjoy action-packed superhero films, romantic movies, or nostalgic Disney classics, you'll find paintings for all types of movie lovers in our showrooms.
Lights, Camera, Action!
Step right into the action of your favorite superhero movie with paintings starring comic characters. Bold colors, exciting details, and plenty of action draw you right into the painting's story. Our DC super hero fine art collection would make a perfect addition to any home theater decor.
The Wonderful World Of Disney
Our Disney movie wall art brings magical films to life with splendid colors and iconic scenes. In Fantasia, for example, a wizard Mickey stands above a brilliant scene, conducting an enchanting orchestral dance below him.
In Aladdin, we watch Jasmine and Aladdin soar on the magical carpet over the twinkling lights of Agrabah. We even offer movie paintings from Disney's non-animated classics, such as the delightful, Pirates of the Caribbean.
Other Disney paintings for your home theater include:
Gifts For Movie Lovers
If you are looking for the perfect gift for the movie fan in your life, consider fine art from one of our California galleries. Whether you are looking for a Father's Day gift for Dad, a birthday gift for your son, or a just-because present for the Disney Princess wanna-be in your life, our movie art would make a wonderful gift.
Decorate Your Home Theater
Visit our California Thomas Kinkade galleries today to find beautiful art for your home theater. Our friendly art consultants can help you find the right collection to decorate your media room. We look forward to bringing a little more excitement to your next movie night in.