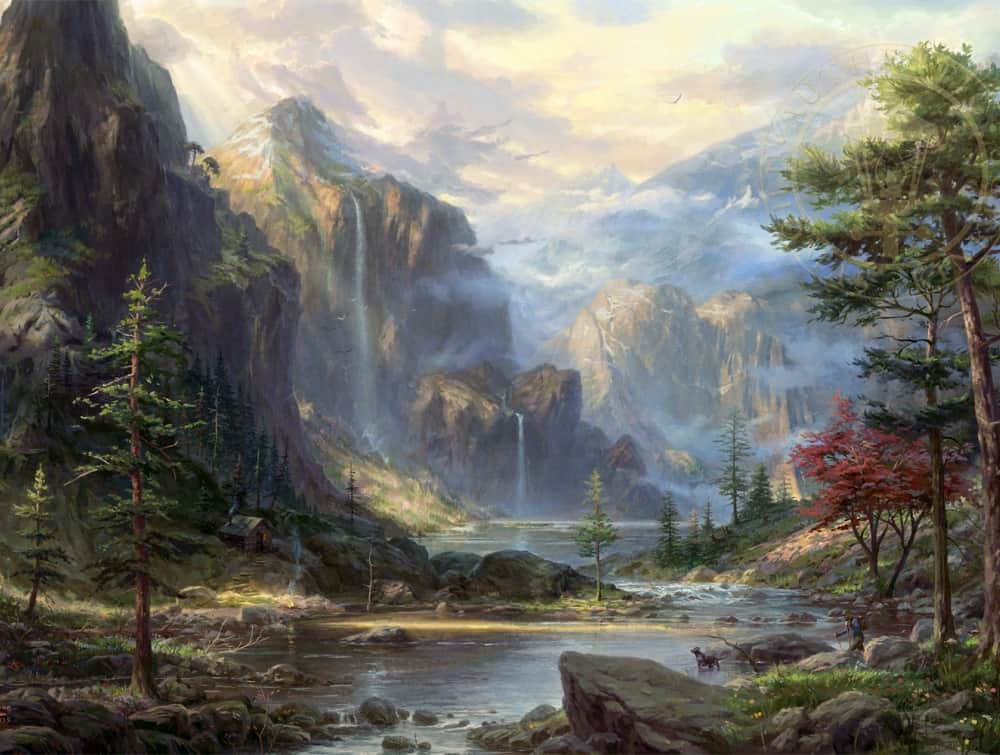 Bring the majesty of the great outdoors into your home or cabin with mountain retreat art from one of our Thomas Kinkade galleries in Carmel, Monterey, and Placerville, California. Our friendly art consultants will assist you in finding just the right nature-themed painting for your space.
Paintings For A Peaceful Get-Away
There's nothing quite like escaping the hustle and bustle of everyday life and heading to a quaint cabin to get away from it all. Our mountain paintings showcase charming get-aways in beautiful landscapes.
In A Peaceful Retreat, towering pines watch over a cabin, while a rowboat waits patiently in the nearby stream for its fisherman to arrive. Lakeside Hideaway is the perfect retreat for enjoying the nearby lake while majestic, snow-capped mountain watch from a distance.
You might also enjoy these cabin paintings:
Stunning Mountainscapes
Mountains are alive with streams, waterfalls, wildflowers, forests, and wildlife. With such varied, stunning landscapes, mountains are the perfect place for exploring and enjoying the beauty of God's creations.
Imagine being able to look at Mount Rainier from your home office, or dining beneath the stunning views of Crater Lake. You can even turn your bedroom into a relaxing retreat with fine art such as Mountain Majesty.
In High Country Wilderness, waterfalls tumble over towering rock cliffs into the waiting stream below. The red rock mountains of Southern Utah reach high into the blue sky in the painting, Zion National Park.
Some of our other mountain retreat paintings include:
Give The Gift Of Retreat Art
Our mountain paintings on canvas make a wonderful gift for any occasion. Consider giving your fishing-enthusiast dad a painting such as It Doesn't Get Much Better for an upcoming birthday or other gift-giving occasions. When you give the gift of fine art to your loved ones, it will be something that will be admired and cherished for generations.
Retreat Art In California
You don't need to travel or hike to enjoy the beauty of a mountain getaway. Bring home retreat art on canvas from one of our California Thomas Kinkade art galleries today. Visit us to find your own piece of heaven in Monterey, Placerville, or Carmel.