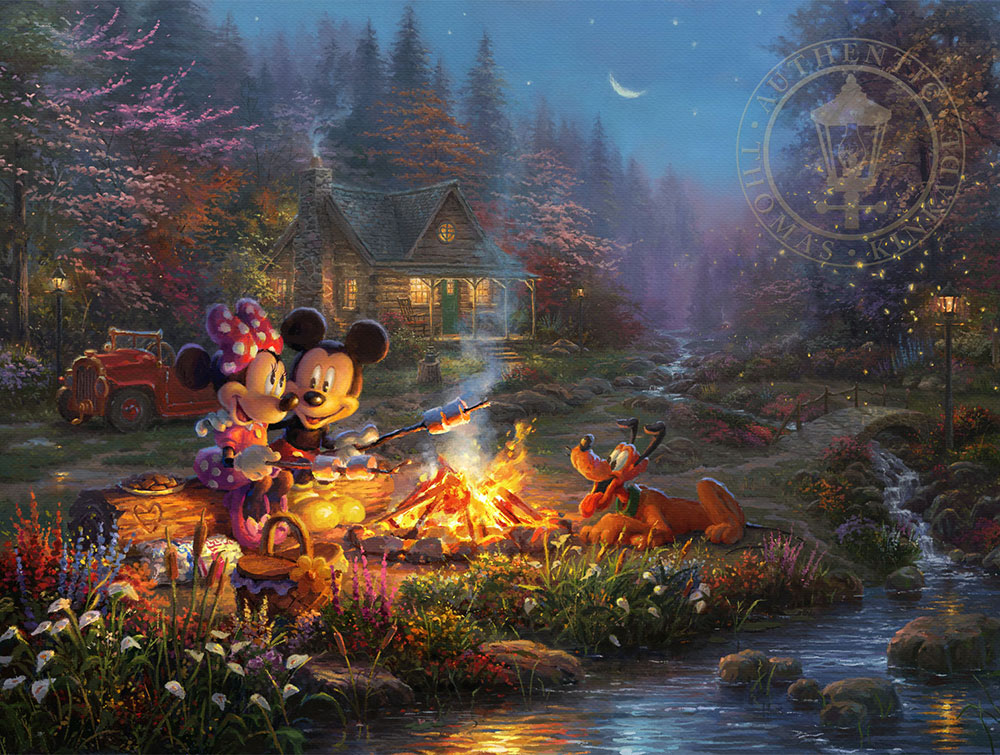 Visit Thomas Kinkade Carmel, Monterey & Placerville, California to see our charming collection of Mickey & Minnie paintings. Vibrant splashes of color and attention to detail capture the timeless essence of Disney's iconic couple. For a sweet expression of friendship, fun, and love you can't get much cuter than Mickey and Minnie Mouse art.
Mickey And Minnie Art: Sweetheart Series
The special love between Mickey and Minnie comes alive in the romantic scenes of the Sweetheart Series. Sweetheart Cove was the first in this series of six paintings. In this painting, Mickey and Minnie enjoy a special moment after a boat ride to the cottage. Other Mickey and Minnie artwork that captures this special romance include:
Mickey And Minnie Paintings: Passport To Adventure Series
Mickey and Minnie set off to find fun and adventure in some of the world's most famous locations. First stop? Hawaii! in the painting Mickey and Minnie in Hawaii, Mickey Mouse, Minnie Mouse, and friends enjoy the palm trees, sandy beaches, and turquoise water at this popular island tourist destination. You can also join Mickey and Minnie's adventures in the following Passport to Adventure paintings:
Mickey And Minnie Artwork In Carmel, Monterey, & Placerville
Visit our Thomas Kinkade signature galleries in Carmel, Monterey & Placerville, California today. See each detail of these charming Mickey & Minnie paintings in person. Our friendly art consultants will help you with selecting the perfect gift, choosing a painting that speaks to your heart, choosing a complementary frame, and showing you ways to display it in your home. We look forward to helping you.