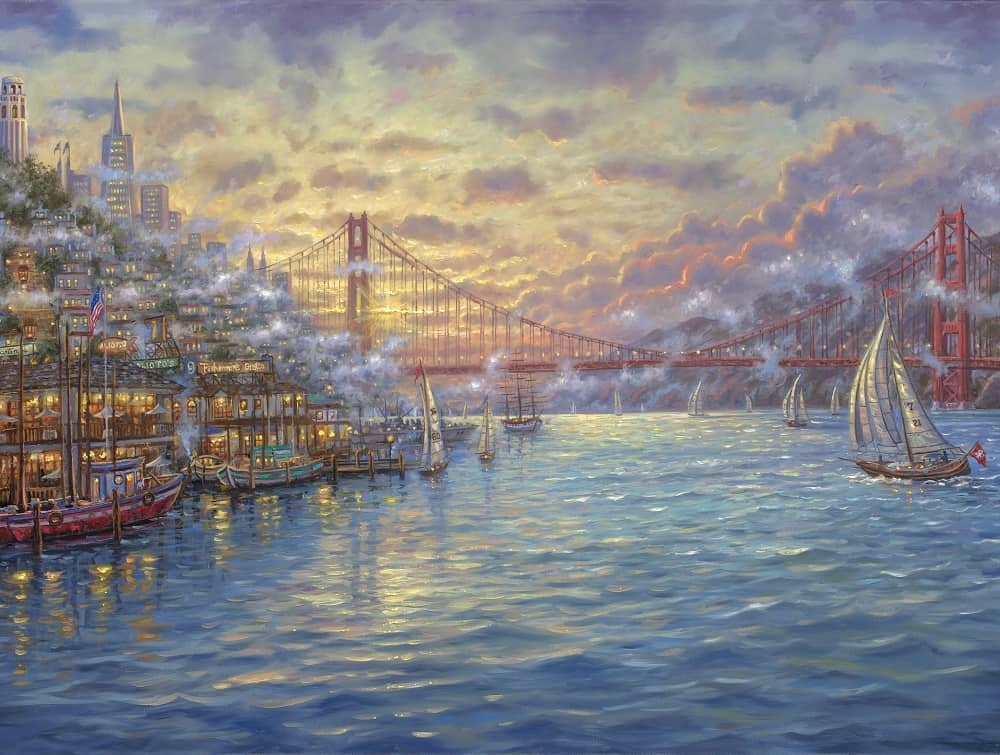 Find impressive paintings for all of your large walls at the Thomas Kinkade California art galleries in Carmel, Monterey, and Placerville. We carry large wall paintings that complement one another beautifully to create an impressive collection of unique home decor suitable for any room.
From Predicament To Pleasure
Finding art for large walls doesn't have to be a time-consuming challenge. There are so many creative ways to make what looks like a big, empty space now into a decorative delight.
Large, Statement Pieces
Fabulous Focal Points
Hanging Impactful Pieces Lower
Alternating Larger & Smaller Wall Art
Cohesive Collections
Complimentary Frame Choices
Accenting Paintings With Furnishings Or Plants
Using A Ledge To Group A Variety Of Artwork
Arranging Small Canvases Geometrically
Backing Art With Wood Or Fabric
Covering An Entire Wall
Using Lot's Of Color
Choosing Attractive Themes
Super-Sized Paintings For Your Super-Sized Walls
Our Thomas Kinkade art consultants are happy to direct you to our fine art collections available in larger sizes. Large wall artwork is available in a multitude of sizes. So, you are sure to find many paintings to choose from in just the scale you need.
Seaside Hideaway or Mountain Paradise will look right at home on any landscape lover's large living or dining room walls. Sleeping Beauty or Fantasia will make for extraordinary room decor if you need a big wall painting in a kids' loft playroom.
For you city slickers, we offer New York, Fifth Avenue, and Central Park In The Fall in larger than life sizes. If you are hunting for paintings for a large wall in your church or ministry, Remember Me or Dogwood Chapel might be just what you've been searching for.
Make It A California Collection
Your expansive walls and rooms with high, vaulted ceilings will look breathtaking with a collection of our California artwork. We carry many paintings featuring scenery from various shorelines and coastal views from around our beautiful state.
Create a spectacular California collage of canvas art.
Fabulous Artwork For Fun Spaces
Show off your favorite hobbies or interests. Our collection of movie-themed art will take center-stage in your home theater. Fine art featuring your favorite DC Super Heroes can spice up any large game room wall. Our sports-themed artwork, which includes Indy and NASCAR racing paintings, offers that perfect final touch for any massive wall in your man cave.
Distinctive Designs For Any Aesthetic
You can also mix painting sizes on larger walls. Creating a cohesive wall art display is a breeze when you choose to group artwork from any one of our themes or featured artists. From nature-lovers to pop culture fanatics and color-fiends, we have options for everyone.
Redina Tili
Marjolin Bastin
Blend Cota
Zac Kinkade
Find Art For Large Walls In California
At the Thomas Kinkade art galleries in Carmel, Monterey, and Placerville, California, we are happy to offer helpful tips and suggestions for decorating any large wall in your home. Stop by one of our galleries today to find Limited Edition art for your large spaces.