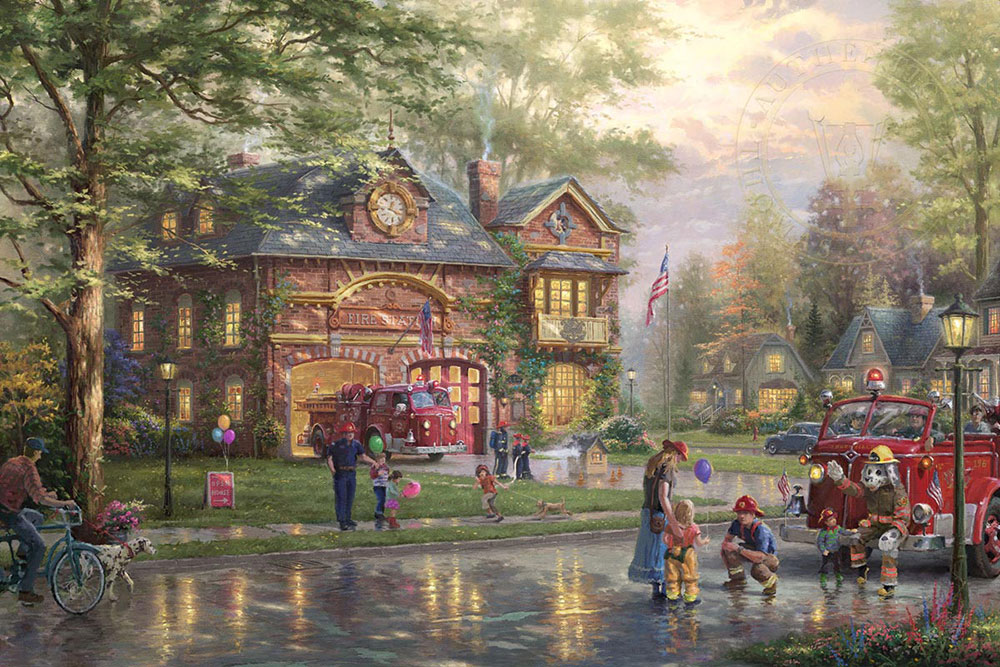 We invite you to show your love and appreciation for the unsung heroes in each of our lives with firefighter and police paintings from Thomas Kinkade. In the face of some of our nation's biggest tragedies, these are the men and women we depend on to keep the peace, keep their cool, and even save our loved ones. No matter how small our towns or how crowded our cities, these helping hands stand ready to serve us right when we need them.
Create A Patriotic Space
At a time when some issues can make us feel like we're living on completely different planets from our friends and neighbors, we are blessed to have one thing in common. We know who to call when the fires blaze or a child goes missing. Our first responders never hesitate to step into the line of fire to protect our lives or our liberty. These men and women are our true hometown heroes. Create a space to remember these sacrifices with firefighter and police paintings.
Honor Their Service
Thomas Kinkade valued and appreciated service personnel. Each fine art painting we carry of firefighters, police, or scenes that honor America is a depiction of pride and dignity. Hometown Firehouse, for example, is a joyful painting of childhood heroes brought to life. We look forward to showing you the care and beauty captured in each of the following:
Fine Art Makes A Fine Gift
Firefighters, policemen and women, and other first responders are more than our heroes. They are our neighbors, our friends, and our family members. Whether it's a fire school or police academy graduation, time to retire after years on the force, or in commemoration of service in years past, we have a Limited Edition painting to celebrate or remember.
Celebrate Selfless Service
Honor your service member with beautiful firefighter and police paintings from one of our galleries. Our Art Consultants look forward to helping you find an elegant gift or piece of home decor. We have the perfect size and the perfect frame to compliment any home or office. Stop by today and find just the painting you're looking for.