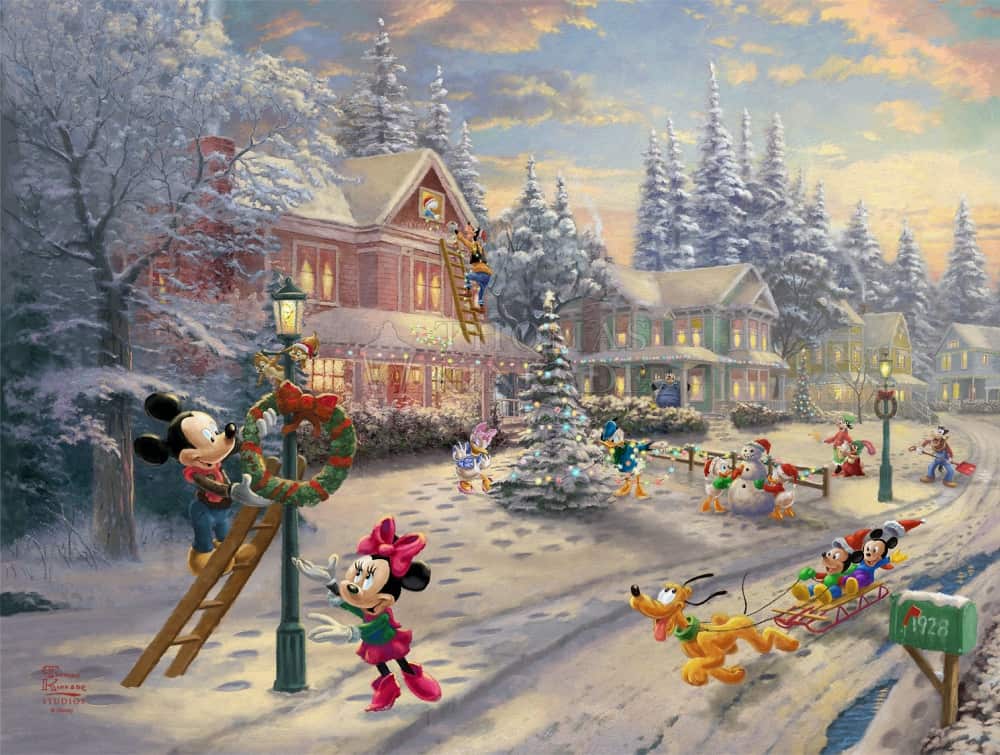 Celebrate the holiday season this year with Disney Christmas paintings from one of our Thomas Kinkade art galleries in Monterey, Placerville, or Carmel. Our stunning, one-of-a-kind artwork is sure to bring a smile to Disney fans of all ages. You'll want to see the beauty and artistry of these paintings for yourself.
Deck The Walls With Disney
The Christmas season is a magical time of year when halls are decked with boughs of holly, twinkling lights, and of course, mistletoe. Add a bit of extra magic this year by decking your walls with Disney paintings from our Thomas Kinkade galleries. Whether you are looking to bring some extra holiday cheer into your home or want to bring a thrill to the young and the young at heart, you'll find Disney wall art that is sure to give your space some extra magic this season.
Celebrate With Mickey And Friends
Mickey and the gang find themselves in charming winter settings in our Christmas wall art. In Mickey's Victorian Christmas, Mickey, Minnie, and the rest of the gang are busy decorating the yards of their Victorian homes for Christmas. In Mickey and Minnie-Sweetheart Holiday, Mickey and Minnie enjoy skating on the ice surrounded by the cheerful decorations in "Mickey's Square." Mickey and his friends also take to the ice in Eric Dowdle's colorful painting, Mickey and Friends Skating in Central Park. When you see these paintings in person, you'll get a thrill at all the fun details in our Christmas Disney artwork.
Beauty And The Beast In A Winter Wonderland
Bring more beauty into your Christmas decor this year with a winter-themed Beauty and the Beast painting. Filled with love, enchantment, and adventure, Beauty and the Beast is one of Disney's most beloved animated tales. Our talented Kinkade artists have brought this classic tale to life in a winter wonderland setting. Beauty and the Beast's Winter Enchantment features the happy couple dancing in the snow as their friends watch in anticipation of their new love. In the painting, Beauty and the Beast Finding Love, Beauty and the Beast are discovering the meaning and importance of inner beauty.
Disney Art For Disney Fans
Give the Disney fan in your life a gift this year that will be cherished for generations. A Disney Christmas painting would make a perfect gift.
Our friendly art consultants will help you select the perfect canvas art for your loved one.
Bring The Holidays Home With Thomas Kinkade & Disney
Visit one of our Thomas Kinkade art galleries in Monterey, Carmel, and Placerville to see our exquisite Disney paintings on canvas. We will be happy to assist you in finding the perfect piece to deck your walls this holiday season. Call for an appointment or stop by today to get started on finding your perfect Christmas home decor.