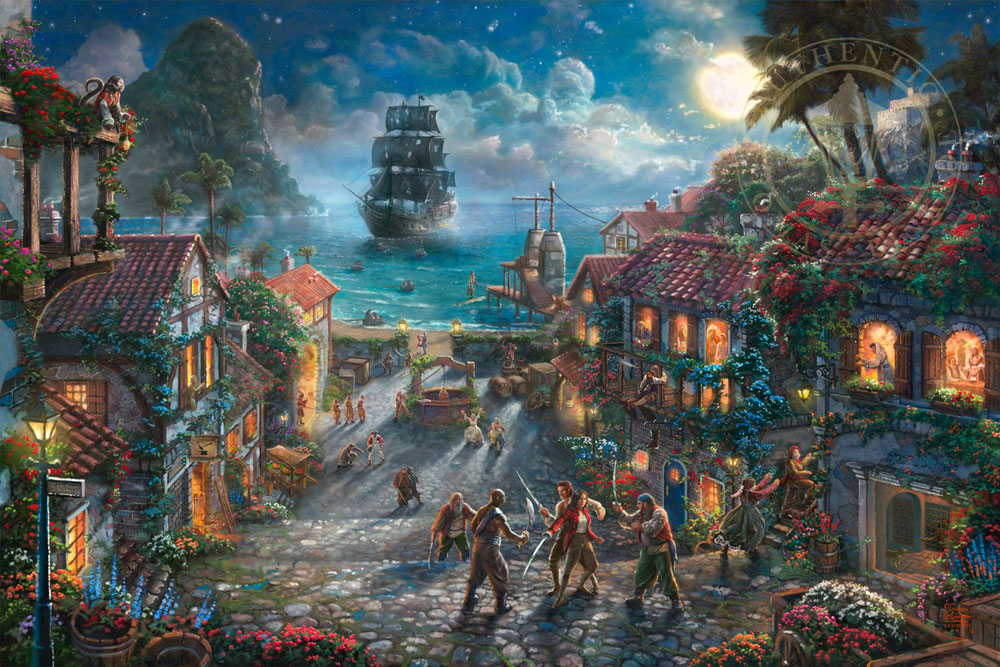 If you're looking for art your kids will love, visit our Thomas Kinkade galleries in Carmel, Monterey and Placerville, California. We have a delightful collection of fine art that is sure to bring a smile to children of all ages. Whether you have a tiny superhero fan, a Disney fanatic, or a movie lover in your home, you'll find that perfect piece of wall art your child will love.
DC Super Hero Art To The Rescue
Are you looking for a larger-than-life, action-packed gift or canvas art for your child? A Thomas Kinkade superhero painting will save the day. Imagine the thrill your child will get when he sees the Justice League on his wall, standing ready to fight off any villains who dare enter. Or perhaps you have a grandchild who loves Superman. The painting, Superman–Man of Steel, would make a great kids room wall decor.
The Magic Of Disney Art
Create a magical room for your child with a stunning piece of Disney art. Thomas Kinkade is known as the Painter of Light™, this signature technique is used to masterfully capture many enchanting Disney moments in paintings including, Cinderella Dancing in the Starlight, Little Mermaid Falling in Love, and Clock Strikes Midnight. Your child might also love one of these magical Disney paintings:
Childhood Nostalgia
Share some of your favorite childhood nostalgia with the young ones in your life with a painting from our Memories collection. What child wouldn't be mesmerized by the story of a place where munchkins dwell, a yellow brick road leads to unexpected adventures, and a wicked witch threatens to destroy peace in the land? The Wizard of Oz is a timeless classic filled with adventure, danger, and wonder.
In the painting, Dorothy Discovers the Emerald City, Thomas Kinkade depicts the moment when Dorothy and her trusted friends discover the Emerald City for the first time. When you see this painting in person at one of our Monterey Bay galleries, you'll be entranced with the vivid colors and charming details.
Art For Kids At Thomas Kinkade
Visit our Thomas Kinkade California area galleries in Carmel, Monterey, and Placerville and see for yourself the stunning beauty, detail, and quality of these delightful paintings. Our friendly art consultants will help you with everything from selecting a painting to choosing a complementary frame. Add a Thomas Kinkade painting to your child's room decor today.