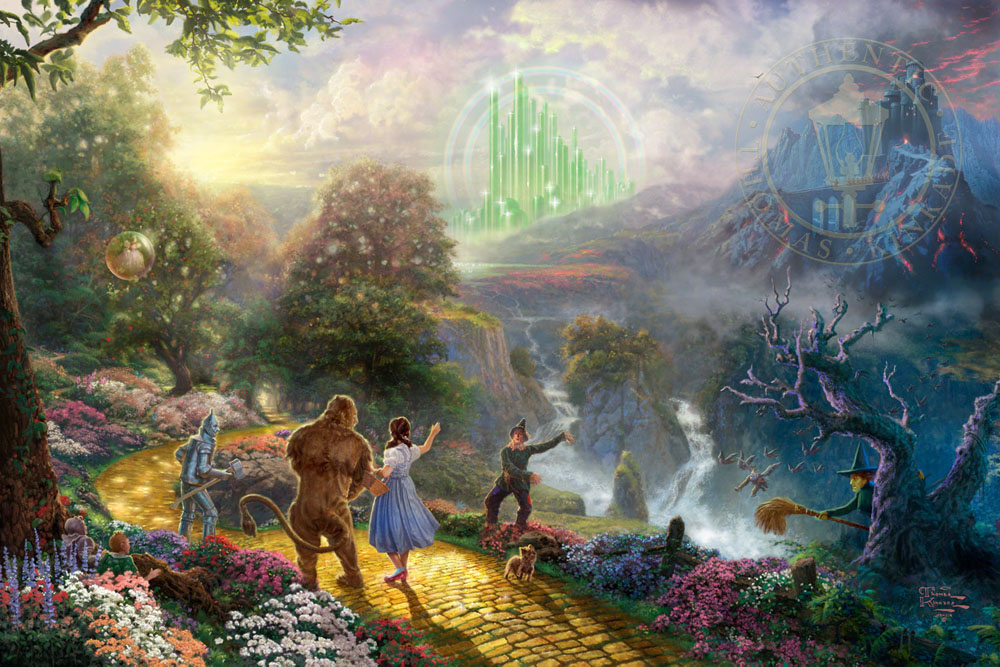 Art Notes
Like most children of my era I was intrigued by The Wizard of Oz during its annual presentation on our TV screen. This adventure provided the ultimate daydream for a young artist whose imagination yearned to "follow the Yellow Brick Road".
In the first Oz painting we see Dorothy and friends as they view the fabled Emerald City for the first time. The familiar cast of characters is here – Dorothy, Cowardly Lion, Tin Man, Scarecrow — as well as the Wicked Witch of the West, scary Winged Monkeys, and of course the Munchkins. We can even see Glinda the Good Witch floating in her transparent sphere of light, as though to bless the journey of the travelers. Dorothy Discovers the Emerald City is a panorama of the great places from the film. Though while watching the movie none of us can be entirely sure where the Wicked Witch's Castle is located in relation to the Emerald City, I have placed it distinctly in the foreground suggesting a barren land that must be traversed to encounter the delights beyond. Like The Wizard of Oz film, my painting presents the raw emotions of myth and daydream as they collide with wondrous imagination.
For those collectors who are ready to engage my Oz collection, rest assured that Dorothy Discovers the Emerald City is the starting point of an epic adventure in a land "over the rainbow".
Copyright: THE WIZARD OF OZ and all related characters and elements are trademarks of and © Turner Entertainment Co. Judy Garland as Dorothy from THE WIZARD OF OZ.
(s10)
Title Dorothy Discovers the Emerald City
Painted 2010
Published 2010
Style Narrative Panorama
Classification Thomas Kinkade Original
Collection Wizard of Oz