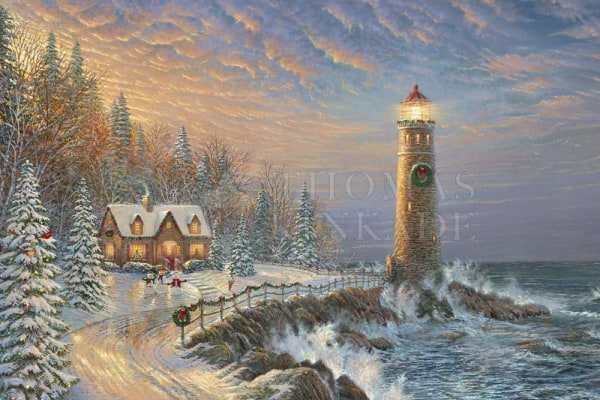 Feed your art collecting bug while adding fine art to your collection with winter landscapes for holiday decorating. If you're ready to put up Christmas decorations, but no one else in the house or office is, winter paintings can make everyone happy. Before you start buying new artwork, make sure you check out our growing inventory of holiday-themed fine art.
At the galleries of Thomas Kinkade in California, there is no shortage of holiday-worthy decor to match any decorating style.
Cozy Cottages In Winter Forests
Does your family escape to a country cottage or mountain cabin in the woods as soon as the snow starts to fall? Bring that cozy feeling home with frost-covered pines and warm, glowing windows. You'll find seaside cottages, Santa cottages, and cabins being quietly visited by neighboring wildlife in our collections.
These winter paintings star cottages and cabins that are a perfect accent to any farmhouse, country chic, or cottagecore home decor style.
Grand, Snow-Covered Estates
Maybe wintertime is a grand event that deserves winter landscapes that are larger than life in your home. Wreaths, bows, trees, and lights take center stage on these frosted estates. If it just doesn't say Christmas without a horse-drawn carriage, holly-covered white fence, or showpiece of a light exhibit, you're sure to find a landscape you like at our California galleries.
Add these statement pieces in large sizes to a formal room, foyer, or grand entryway.
Paintings Of Mickey & Minnie At Christmastime
Family rooms, game rooms, and guests rooms for the grandkids are perfect spots to add in a little Disney. You can expect the same fine artistry and attention to detail in these winter landscapes as in the rest of our holiday decor collections.
Beauty and the Beast, Donald and Daisy Duck, Mickey and Minnie – you'll find all of your family favorites here, all decked out for holiday fun.
Shop Winter Landscape Paintings In California
Visit the Thomas Kinkade galleries in Monterey, Placerville, or Carmel, California, to see these landscapes in real life and find out more about available framing and size options. Shop a wide variety of winter landscapes and get started on your holiday home decorations today.