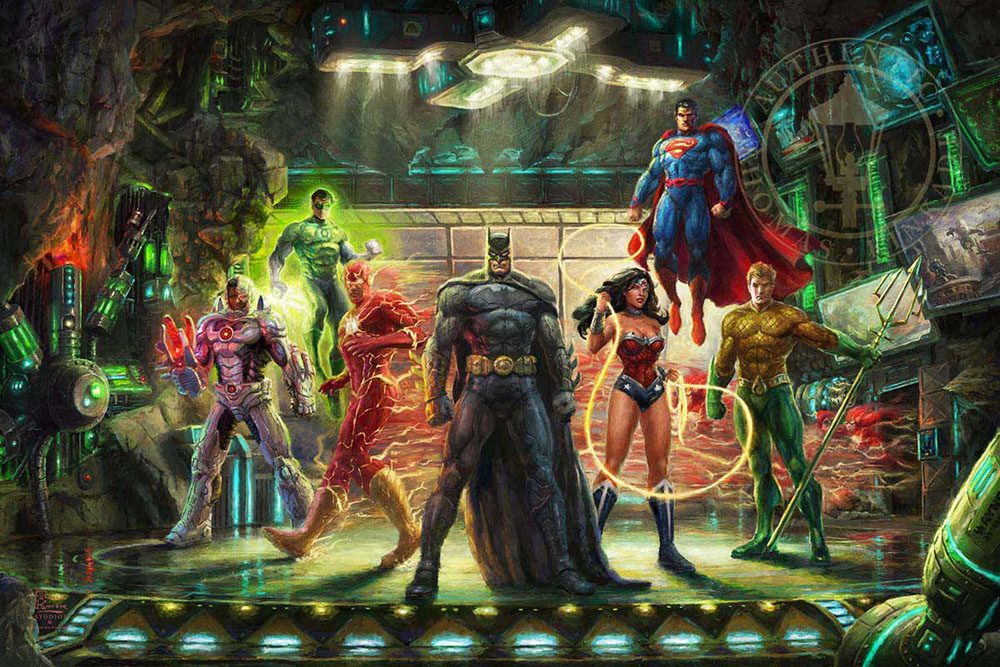 Thomas Kinkade is your home for one-of-a-kind superhero paintings. The DC Universe, known for its darker, grittier comics, is reemerging in popularity, leaving comic fans rejoicing. These limited edition works of art are currently available in our galleries. Now you can own a comic book painting of your own to be treasured in your home for years to come.
Man of Steel
Superman…America's most beloved superhero. Created in 1933, no other character has captivated the hearts and imaginations of the world longer than the Man of Steel. In the Thomas Kinkade limited edition painting, "Superman – Man of Steel," you can relive one of the greatest comic book moments from "The Death of Superman" with brilliant colors and carefully included references to Superman's history.
Girl Power
Since 1941, Wonder Woman has been winning hearts and empowering girls to pursue their dreams. Along with the other women of DC – Huntress, Batgirl, Supergirl, and others – she fights tirelessly to keep earth safe. As memorable as the female superheroes are, DC's female villains steal the spotlight. Who could resist Harley Quinn, Livewire, Poison Ivy, Catwoman, and Cheetah? Enjoy "The Women of DC" and see if you can spot the Easter eggs added in for fans.
The Dark Knight
Arguably the most complex superhero of all time, Batman is the original anti-hero. This billionaire vigilante has been fighting on the streets of Gotham since his first appearance in 1939. Unlike most superheroes, Batman doesn't have special abilities, only his incredible mind, and vast wealth. In "The Dark Knight Saves Gotham City," he squares off against his worst enemies, but he is more than capable of getting the job done.
Justice League
Making their debut in 1960, this team of heroes was on the scene three years before the other team bothered to "assemble." Made up of DC's greatest superheroes, and led by the Dark Knight, The Justice League is a force to be reckoned with. Don't miss them showcased in the new release framed wall art – "The Justice League." Also check out the 'Trinity' in the first collaboration of DC Comics with Thomas Kinkade, "Batman, Superman, and Wonder Woman."
Stay Tuned
While these first five paintings have set the stage for comic book art to be made into incredible paintings, check in frequently for new additions to the gallery.
Order Yours Today
These limited release DC Comics art pieces are available now. Take home your favorite hero (or villain) today. With bold colors, subtle nods to comic book enthusiasts, and a parade of best-loved characters, you won't be disappointed. Let your love for comics translate into talking pieces of art in your home or office.