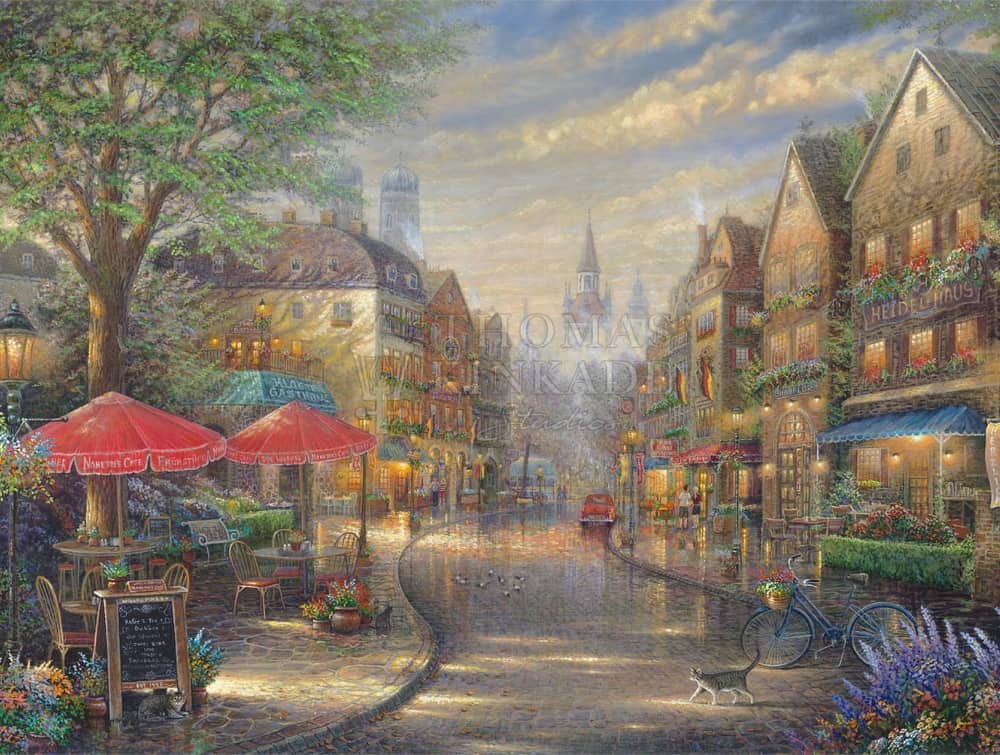 Bring a bit of charm and artistry into your home or office with summer cafe paintings from one of our California Thomas Kinkade galleries in Carmel, Monterey, and Placerville. From the canal-lined streets of Amsterdam and Venice to the exotic coasts of the French Riviera, cafes are the perfect places to enjoy good food with friends and family. With our cafe fine art, you can enjoy these beautiful locations with the people you love right in your own home.
European Cafes
Tourists and locals alike love to flock to charming, European street-side cafes. Imagine dining on a cobblestone patio, surrounded by colorful potted blooms next to one of Amsterdam's beautiful waterways as in Amsterdam Cafe. In Munich Cafe, umbrella-topped tables line the cobblestone street, waiting for its diners to arrive. When you visit one of our California art galleries, you can explore the details in these quaint cafe paintings in person.
Cafe Art For Disney Fans
Do you have a special place in your heart for the magic of Disney? We invite you to delight in the romance of Mickey and Minnie–Sweetheart Cafe. In this painting, Mickey shows Minnie his love and affection for her with flowers, chocolates, and a heart-shaped balloon at their favorite sidewalk cafe. This delightful painting is sure to bring beauty, fun, and romance to any space.
Decorating With Cafe Paintings
Our paintings of summer cafes are alive with color and charm. Whether you are looking to bring a bit of European flair to your dining room, some romance to your bedroom, or want to liven up your office, sunny cafe paintings on canvas make a great addition to any decor.
Beautiful Art, Top-Notch Service
You deserve to have a space that is not only beautiful but brings you joy. When you visit us at the Thomas Kinkade galleries in Carmel, Placerville, or Monterey, our art consultants will help you find the perfect wall art for your space. We can even help you choose complementary framing and give you tips for lighting and hanging your new piece. Stop by today and see these vibrant cafe paintings for yourself.