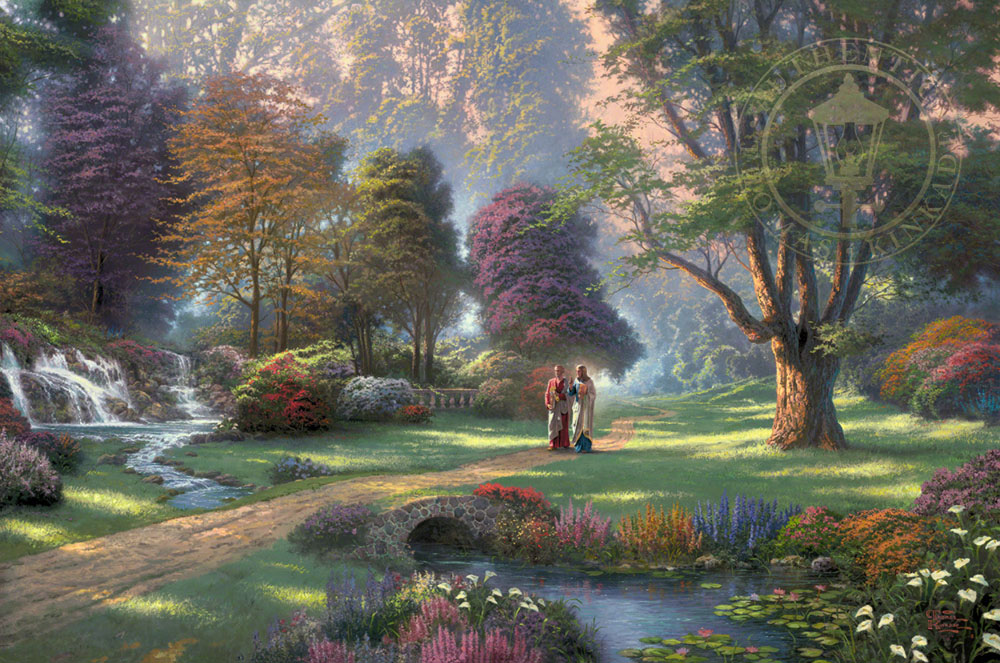 When it comes to selecting spiritual paintings for your home, or as a gift for someone else's home, there is no place better to look than Thomas Kinkade Carmel, Monterey & Placerville.
Whether you're looking for religious significance or merely a harmonious spiritual vibration, we have a wide selection of spiritual paintings available for you to choose from.
Bring A Peaceful Presence Home
Having peaceful and spiritual energy is an experience most people want for their home and decor. From soothing ocean scenes to tranquil forests to religious remembrance, fine art can evoke a sense of calm and an ordered place within the universe. Some of our favorite spiritual wall art includes:
Inspiring Water Scenes
Water scenes such as oceans, rivers, and fountains are some of the most spiritual landscapes. Cleansing, healing, and renewal, water has often been associated with spiritual awakening and religious iconography.
Paintings like Footprints in the Sand and Beside Still Waters create a sense of wonder, peace, and reflection in viewers. We carry a large selection of water scenes like these that would make perfect spiritual art gifts.
Finding Spirit In Nature
For many people, the great outdoors, especially mountains and forests are their own special kind of church. A deep connection with nature and its gifts can be profoundly spiritual.
Canvas art such as Creekside Trail, Winter's End, and The Mountains Declare His Glory inspire a sense of wonder. Treat your guests with impressions like these when you choose spiritual paintings for your home.
Meaningful Religious Art
For you, spiritual home decor might mean religious scenes and holy locations lovingly painted on canvas. Paintings like The Wailing Wall. Jerusalum, A Prayer For Peace, and Garden of Grace are moving reminders of faith and religious devotion.
Whether for your own home or as a gift for a devout friend, these paintings are timeless offerings. There is nothing like the lasting quality of fine art to create a spiritual atmosphere in the home.
Elevate Your Decor & Your Spirit
Find spiritual paintings to decorate your home In Carmel, Monterey & Placerville, California. Plan a visit to our Thomas Kinkade gallery closest to you to find your perfect wall art today. Our art consultants look forward to assisting you in finding the perfect spiritual artwork for your space.