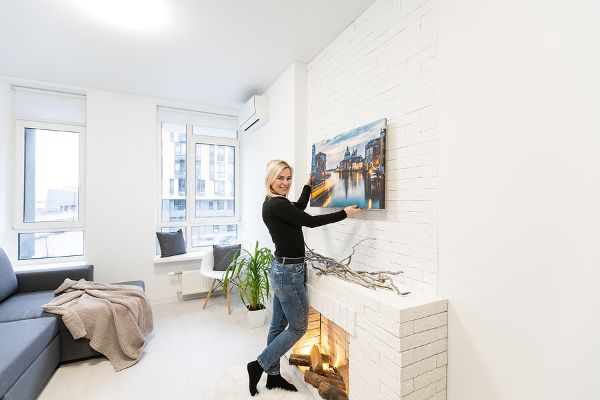 One of the most frequent things we notice at Thomas Kinkade Galleries is the difficulty people often have when buying art. When our clients come to one of our locations, they are often curious to learn more about buying art but feel intimidated by the whole process. Truth be told, buying pieces for your home decor isn't complicated.






Consider The Available Wall Space
Fill Up The Area
Vertical Or Horizontal Orientation
Creating A Fine Art Gallery
1. Looking At The Available Wall Space
To determine the available wall space for your art, you'll want to measure the wall to determine how much space you have. Let's say that you have five feet of available space to fill. You want to find a work of art that covers about two-thirds of that area, or just about 3.3 feet, give or take.
2. Fill Up The Area
Most people tend to buy art that's too small for the space, which leaves visual "holes" and creates an empty, almost unsettling look. One trick to help you move past this tendency is to choose a piece of art for a large focal point, like a fireplace.
Most focal points, like the fireplace, are naturally large, so it's necessary to buy big enough art to cover it for the space to look balanced. Because you're decorating a focal point, it's easier to "give yourself permission" to purchase a larger piece.
3. Vertical Or Horizontal Orientation
In some homes, the available wall space is broken up. Consider the area between two large windows, and you'll know what we're referring to here. When it comes to decorating these types of long, thin spaces, you're better off choosing taller pieces, like portraits. Conversely, the area over your couch calls for a landscape, which usually has a horizontal orientation.
4. Creating A Fine Art Gallery
After you've learned how to buy art, you may feel comfortable enough to create a gallery in your space. When you do this, you have an opportunity to mix and match different pieces. For example, you could hang a horizontally-oriented piece of art over the couch. You could then add two vertically-oriented pieces to each side of it to create a triptych.
This would be a great solution if the horizontal piece was too small for the available space. The other two vertical pieces would provide visual balance. Once you gain confidence as a buyer, you'll naturally gravitate toward experimenting with your own home galleries in this manner.
Final Thoughts On Buying Art
When buying pieces for your walls, it helps to work with a size guide, this ensures you buy pieces that work well with your home decor and the space you have to fill. However, if you're still feeling uncertain about buying art, talk to our consultants at one of our Thomas Kinkade Galleries in Carmel, Monterey, or Placerville, California. They can help you find the right pieces to fill any space in your home.