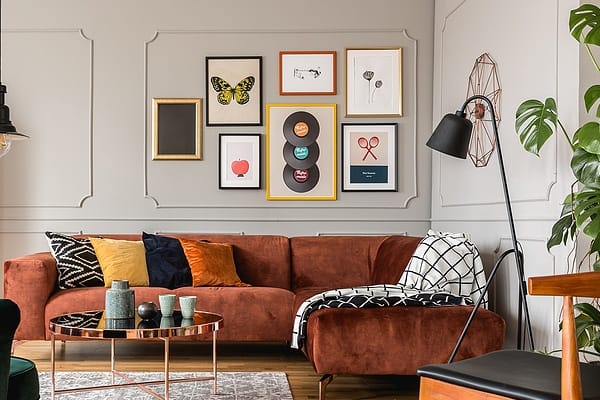 Create a focal point in your home with a gallery wall. Why settle for one color of paint, one large painting, or one wallpaper pattern when you can create a collection that truly reflects your family or personality? This mix-and-match form of home décor might seem like a puzzle at first, but we've put together 7 simple tips and tricks to help you put it all together.
Measure Your Wall Space
Find Or Create A Theme
Gather Your Collection Together
Decide On Gallery Wall Frames
Lay Your Artwork Out
Decide On Wall Art Accents
Hang Your Art Up Properly
1. Measure Your Wall Space
Space is everything – if something doesn't fit, it won't fit. Imagine putting together your art collection, loving it, and then having to decide what to leave out because your TV, sofa, table, or hearth takes up too much space. Save yourself the struggle and measure how much wall space you have before you shop for anything new.
2. Find Or Create A Theme
You can start with the artwork you have and look for a theme, or you can decide on a theme up front and select pieces that fit. For example, you can stick with black and white photos, choose all art featuring plants, or decide to use a unique Disney painting as your centerpiece. Then select artwork with the same color scheme as accents.
3. Put Your Collection Together
Your gallery wall might include family photos, inherited paintings, kid's artwork, and treasured art prints. You'll want to get everything together, so you can view sizes, colors, and subjects in one place.
4. Decide On Gallery Wall Frames
Now that all your wall art is in one place, you can create a more cohesive feel through your gallery wall frames. Add matting to keep a small photograph from getting lost among larger wall art. Keep all the frames the same, or include pops of color and add interest with shape.
5. Lay It All Out
Take your framed and unframed artwork and lay it all out. You can use digital programs, the floor, or good old craft paper to fine-tune your layout. Trace each piece onto the paper, use tape to hang them, and easily rearrange them.
Have fun playing with spacing and symmetry. If you're having difficulty getting started, start with your largest piece and work outwards and upwards from there.
6. Decide On Wall Art Accents
If you find yourself with a gallery wall layout you like, but have a few empty holes to fill, consider accent pieces. Mirrors, sculptures, embroidery hoops – what found art do you have around the house that goes with your theme?
7. Hang Your Art Up Properly
Once you've decided on just the right arrangement, it's time to get it on the wall. Keep in mind the type of artwork you are planning to display. Be mindful of lighting, humidity, and access from little or furry hands, and always use proper hanging hardware.
Looking For A Statement Piece? Shop Thomas Kinkade!
Now that you know the basics of creating a gallery wall in your home, we want to help you bring it all together. At Thomas Kinkade Carmel, Monterey, and Placerville, our friendly California Art Consultants look forward to helping you find Limited Edition artwork to add to your collection.