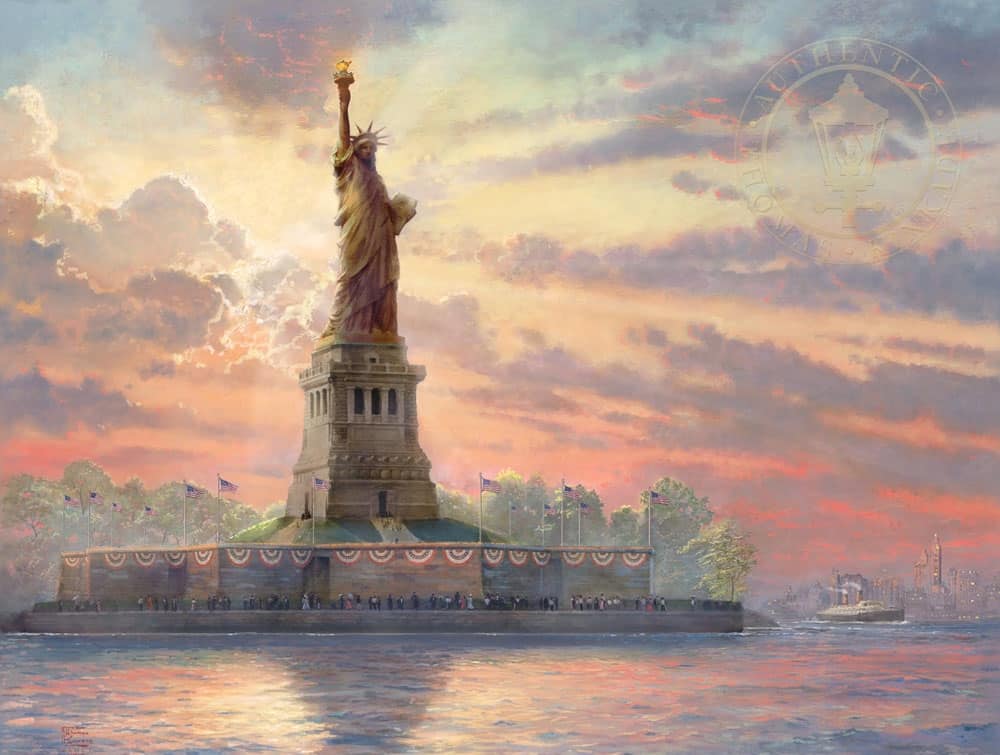 Celebrate your American pride with patriotic paintings for Independence Day from our Thomas Kinkade galleries in Placerville, Monterey, and Carmel, California. From art featuring iconic symbols of American freedom to paintings honoring our heroes to charming hometown scenes, our friendly art consultants will help you find the perfect art for your Independence Day decorating.
Proud To Be An American
The artists featured at our Monterey Bay area galleries celebrate what it means to be an American through their freedom-themed paintings. The Red, White, and Blue is showcased in the painting, America's Pride. The American flag waves majestically over our nation's capitol.
Zac Kinkade captures the American spirit in the flag painting By the Dawn's Early Light: Fort McHenry 1814. Blend Cota's bold, flashy style gives a new twist to Lady Liberty in his painting, Vive La Liberte.
You might also enjoy these paintings for your Independence Day decorations:
Honoring Our American Heroes
This year, celebrate Independence Day by honoring those who have fought and continue to fight for the safety and freedoms we enjoy. Pay tribute to the war hero who's heading home after a long battle with the painting, Heading Home. In the canvas art, Selfless Service, a firefighter makes his way to the firetruck, ready to put his life on the line to save life and property from dangerous flames.
In Called to Serve, a policeman stands ready to protect us from harm. When you visit one of our Monterey Bay galleries, you'll see the touching details in each of these paintings for yourself.
Decorating For Independence Day
Imagine decorating your home or office this Independence Day with exquisite, high-quality art handcrafted to last for generations. Whether you want to display a flag painting in your office, an iconic symbol of freedom in your living room, or give the gift of a charming cottage in a quaint Americana setting, our staff will help you find the best patriotic home decor.
Fourth Of July Art At Thomas Kinkade
Fill your home with the spirit of America's freedom this Fourth of July with patriotic paintings from one of our California art galleries. We can help you choose the perfect frame and give you tips on how to hang and showcase your new painting. Beautiful patriotic wall art is waiting to complete your Independence Day decor at Thomas Kinkade in Carmel, Monterey, and Placerville, CA.