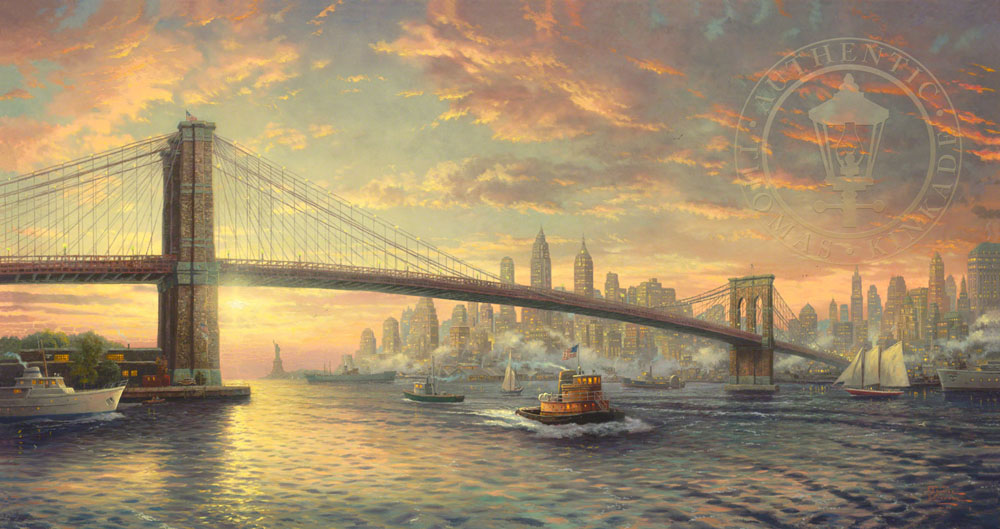 Art Notes
On a recent trip to New York with my family, we got the chance to boat on the East River, enjoying seldom-seen views of the city. As I savored the panorama of the Brooklyn Bridge towering above the glistening city skyline it dawned on me: what image could better summarize The Spirit of New York?
As I labored on the epic canvas I came to see the many boats upon the East River as somehow symbolic. The humble harbor tug flying Old Glory expresses New York's tremendous resolve in the face of challenges. Cargo ships remind us of economic power, while a military vessel suggests the power of heroism. A vintage ferry boat plies the waters of the East River, and an array of pleasure boats confirm that after all these years, the city still knows how to throw a party.
In the far distance, Lady Liberty holds high the torch of freedom for all to see.
Title The Spirit of New York
Painted 2006
Published 2006
Style Chiaroscuro
Classification Thomas Kinkade Original
Subject Location New York City, New York, USA