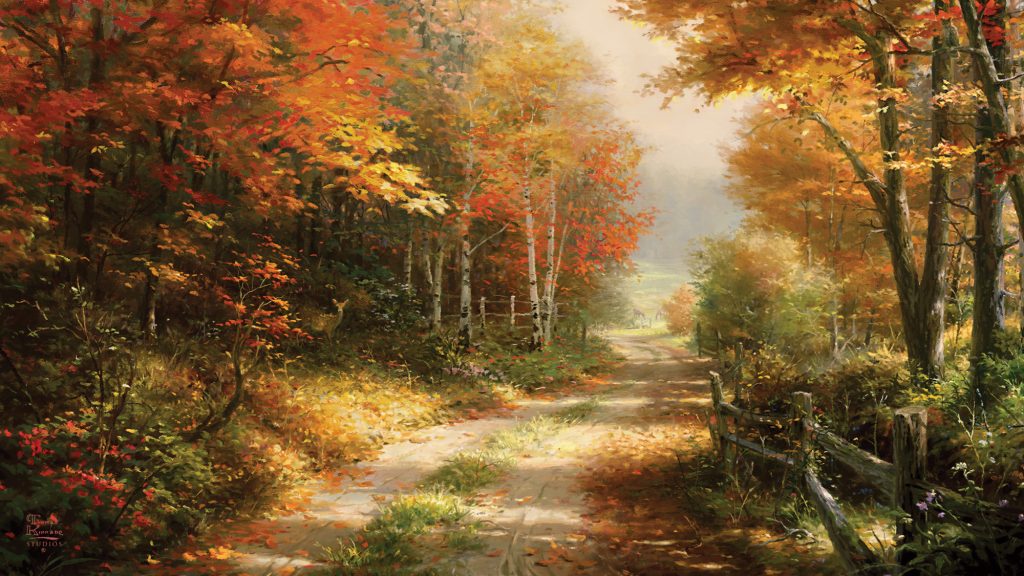 Update your home decor for the season with paintings that celebrate the fall. Whether you're looking for fresh autumn decorating ideas or want a new piece of seasonal artwork to add to your collection, our California galleries have a quality canvas landscape that suits your style.
Autumn Decor Ideas
A room that never changes can be a boring place to live in. Regularly switching out a few accessories can renew a familiar space. Displaying fall decor in your home reflects the seasonal changes happening outside and builds excitement for the fall holidays for everyone inside. Excite little ones with the sweet gathering creatures in Marjolein Bastin's Autumn Snacks.
Halloween Wall Art
Putting a jack o' lantern by your front door or Transylvania by Zac Kinkade at your entryway, will get you excited for the Halloween party you're hosting for friends and neighbors. Adding a gold tablecloth to your dining table will remind you of the family you're looking forward to seeing at Thanksgiving. Reflect the changing of the leaves with Thomas Kinkade autumn canvas wall art over your mantle or tablescape to welcome guests.
Fall Paintings That Make An Impression
Adding fall wall decor is an easy way to make an impact. Large paintings are the focal point of any wall, so changing this will make the room feel transformed. Smaller art gives your eyes something new to enjoy all autumn long. The colors and subject matter of your painting can even inspire more fall decorating ideas to complete a room's seasonal transformation.
Autumn Highlights From Our Collection
Most people look for seasonal subject matter when choosing a piece of autumn canvas wall art: a forest in fall color or a town dressed up for a harvest festival. A good fall painting could use autumn's warm color palette (red, yellow, brown, amber, etc.) to portray whatever says fall to you, like a city sunset or a desert scene. If it makes you think of autumn, then it works as an autumn painting.
Get Fall Paintings For Your California Home
We encourage you to stop by your closest California Thomas Kinkade gallery in Carmel, Monterey or Placerville to see these beautiful paintings in person. We've designed our galleries to give you the best viewing experience. Our knowledgeable art consultants are always on hand to help you choose the right piece for your collection. Stop by today to purchase paintings that celebrate fall.