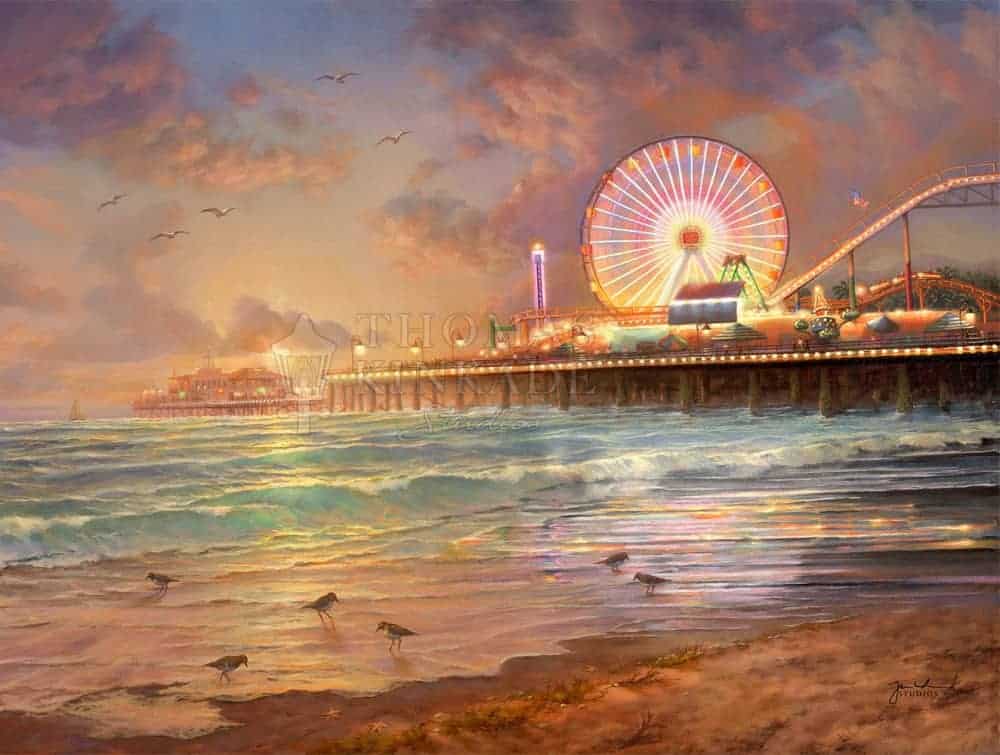 Very few views can match the beauty of the sea. Whether you're in the middle of winter and dreaming of warmer days or reflecting on long days with toes in the sand as you watch and listen to the crash of the waves, beach paintings can transport you. At the California galleries of Monterey, Placerville, and Carmel, we want to help you find beautiful artwork for the beach lover in your life.
We invite you to check out our top 5 selections and explore our collection to find wall art that brings everything beautiful about the ocean home.
Sunset at Santa Monica Pier: In this painting, gentle waves roll onto the sandy beach while a brightly lit amusement park stands in contrast in the background.
Pacific Grove: Preparations are being made for the annual Chinese Lantern Festival on a picturesque beach in this canvas art.
Puerto Vallarta Beach: Charming, thatch-topped umbrellas dot the sandy beach while beachgoers enjoy some relaxation in this tropical paradise painting.
Catalina Yacht Club: Boat enthusiasts and beach lovers alike will enjoy this painting featuring yachts, seaside homes, and a lush green hill overlooking the water.
Mickey and Minnie in Hawaii: The young and young-at-heart will enjoy seeing Disney's iconic animated couple in a display of color and playfulness at one of Hawaii's most beautiful beaches.
Decorating With Beach Paintings
Watching the sun setting over the ocean, feeling the warm sand on your bare feet, and smelling the salt air – with beach art, you can have the next best thing: enjoying the beauty and splendor of the beach landscape in your own home or office.
Hang a painting of the beach in your bedroom to invite in a few more sunshine vibes. Bring more of the outdoors indoors at your beach house. A beach-themed painting is the perfect relaxing accent to a busy home or office environment.
Give The Gift Of The Sea
Take your loved one on a seaside vacation they can enjoy anytime they want with fine art from one of our art galleries. Whether you're looking for a Christmas, a Father's Day present, or an anniversary gift that reminds you of your special beach get-away, we have paintings that your loved ones can cherish for years.
Explore Stunning Beaches Art In California
Visit one of our California Thomas Kinkade art galleries or place your order today. Let our friendly Art Consultants know who you are buying for or where you plan to decorate. From beach painting selection to frame decisions and lighting advice, we're here to help.