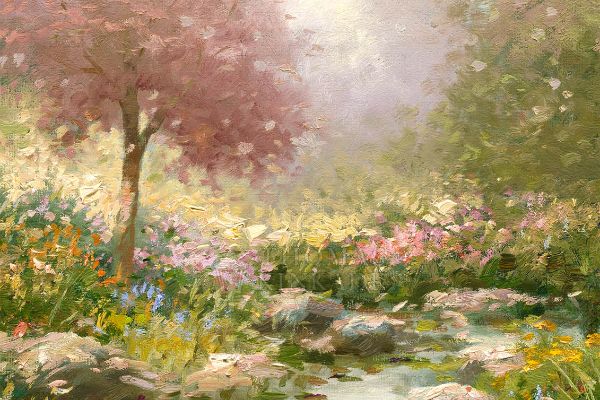 Minimalism is great, but the maximalism trend is sweeping the design world. Maximalist decor turns even the most boring home into a gallery, with something to see on every wall and cabinet. At the galleries of Thomas Kinkade in Monterey, Placerville, and Carmel, we're sharing our top tips to embrace this trend.
Maximalist Home Decorating Tips
Gallery Walls
Maximalist Style For Bedrooms
Dressing Up Kitchens & Bathrooms
Making The Most Of Living Rooms
Selecting The Right Art
Create Interest With Gallery Walls
Gallery walls are all the rage— they allow you to fit a lot of patterns and styles even into relatively small spaces, especially when you add interesting framing to the mix. Evergreen galleries are great, but dressing up your walls for different seasons, such as Christmas, is always fun. Think Mickey themes, Silent Night, or a jolly Christmas festival.
Maximalist Wall Art For Bedrooms
Although the gallery wall works here too, bedrooms benefit from statement pieces highlighting furniture, such as a bed or dresser. Try placing a big cityscape over a headboard or a sweet garden scene above a vanity. Hanging vines around your room or suspending art from the ceiling (think 3D stained-glass pieces) offers extra intrigue.
Form & Function In One Decorating Style
While kitchens and bathrooms are utilitarian, high-traffic areas, that doesn't mean they can't also be beautiful. Since they're usually packed with functional items—appliances, fixtures, cupboards—you have to be more judicious with your art choices. Bright scenes above a toilet or next to a fridge can tie the room together. Just keep art pieces away from areas with lots of steam or splashing so they'll last!
The Maximalist Living Room Of Your Dreams
Living rooms are all about light and bringing the outdoors in. Even if you don't have big windows, you can still accomplish this goal with wall art that features busy nature scenes, especially clustered as a gallery between windows or door frames. Place groups of plants in decorative stands beneath wall art collections to create a lush and warm vibe.
Choose Art That Speaks To You
When selecting art and decor for maximalist decorating, look for pieces representing your life, hobbies, and personality. You're sure to get a constant rush of good memories when your home is full of objects that remind you of your favorite things.
Shop Affordable Maximalist Decor Today
California Thomas Kinkade galleries are here to help with affordable options and ongoing new releases you'll love. Call or stop by one of our three locations in Monterey, Carmel, or Placerville to learn more, or shop our site for maximalist paintings today.