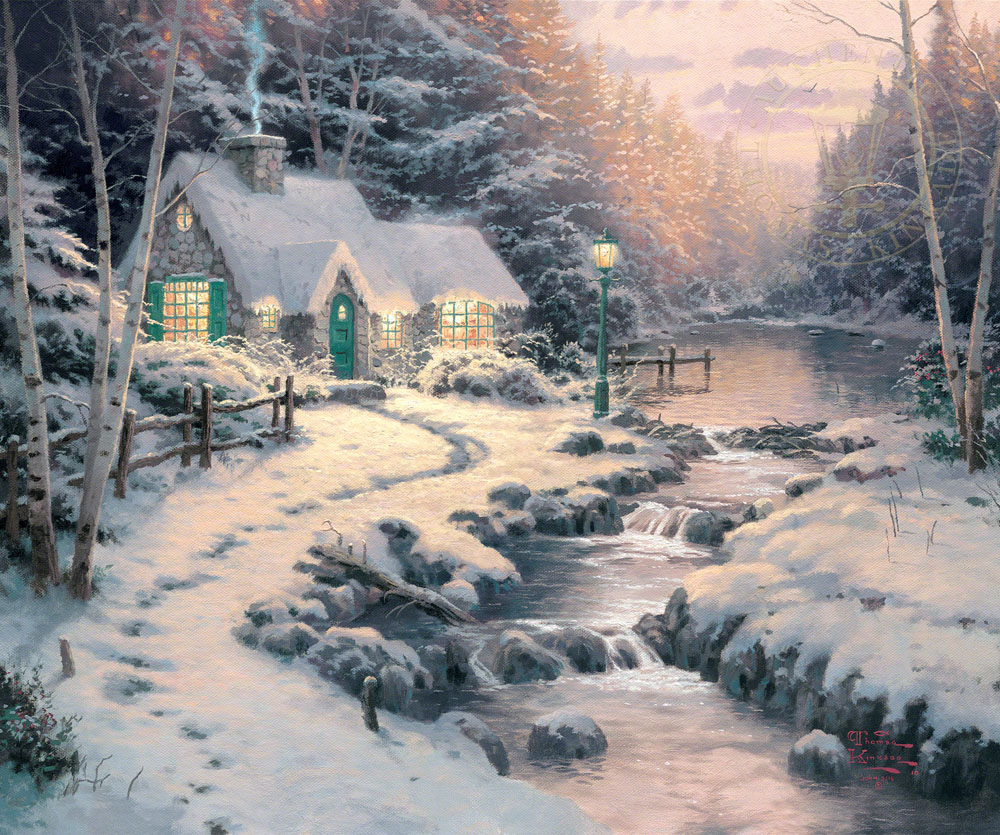 Visit our California Thomas Kinkade galleries in Carmel, Monterey or Placerville, to choose from a stunning collection of home decor for the holidays. Whether you want to decorate your space with wintery landscapes or to add some small town Kinkade magic to your Thanksgiving and Christmas decorating you'll be sure to find something you'll love. There's no matching these iconic scenes for warmth and welcoming during the holiday season.
Holiday Canvas Wall Art
Winter is that special time of year when families gather, the landscapes are dressed in sparkling white, and children from all over the world are eagerly waiting for a bite of turkey and a visit from Santa. Make this season even more magical with holiday wall art from Thomas Kinkade. Visit our gallery today to see the beauty of these paintings for yourself and get holiday season decorating started for your home. You never know when guests will drop by.
Winter Wonderland Paintings
Grab a cozy blanket, a mug of your favorite hot chocolate, and enjoy the dazzling beauty of the winter holidays with art. You won't have to travel through freezing temperatures to enjoy a perfect winter landscape. With a Thomas Kinkade winter painting, you can enjoy the scenery all season long from the comfort of your own home.
In Thom's painting, A Winter's Cottage, you can enjoy the charm of a thatched-roof cottage from the English Cotswolds dressed in a blanket of white. In Deer Creek Cottage, a cottage stands aglow surrounded by a mountain winter wonderland. You might also enjoy these winter paintings for the holidays:
A Nostalgic Christmas
Enjoy the Christmas scenes of years-gone-by with a Kinkade Christmas painting. Our nostalgic holiday scenes include charming details that'll bring a smile to anyone's face. Thom spent part of his boyhood growing up in Placerville, California and he depicts fond memories of a hometown Christmas in his painting, Hometown Christmas. With old-fashioned cars, comfortable-looking houses, and friendly neighbors, this painting shows the warmth and charm of California Christmases gone by. Other Christmas holiday canvas paintings include:
Holiday Art In Monterey Bay
Dress up your festive wall decor this year with one of our beautiful holiday paintings. Visit our California galleries to see their vibrant beauty in person. Thomas Kinkade in the Carmel, Monterey or Placerville area is the place to go to get unforgettable gifts and home decor for the holidays. Add a touch of Kinkade magic to your holiday season.