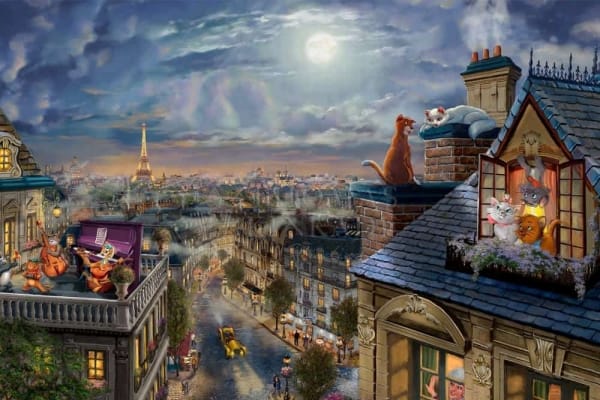 Are you looking for the perfect gift for a music lover? Whether you are shopping for someone else or buying for yourself, fine art can be a beautiful way to express your love of all things music-related.
Disney & Music In Art
For many of us, the first songs we had stuck in our heads or tunes we found ourselves trying to recreate on the piano were from Disney musicals and animated films. At the Placerville, Carmel, and Monterey Bay fine art galleries of Thomas Kinkade, we carry many musically inspiring Disney paintings for the music lovers in our lives.
The Little Musical Mouse In The Wizard's Hat
Mixing interpretive animation with beautiful musical classics, Fantasia is Disney's ode to expression through song. It all starts with the wizard's apprentice as the conductor and controller of an awful lot of cleaning equipment.
You give the gift of beauty and a symphony of color with this Mickey Mouse painting.
A Chorus Of Friends
Is the choir where your heart lies? Nobody does backup singers like Disney. Ariel's friends set the mood harmoniously in Little Mermaid — Part Of Your World. Scat Cat and the Alley Cat gang serenade Thomas O'Malley and Duchess in their jazzy way in The Aristocats — Love Under the Moon.
Paintings For Our Favorite Dancer
Art collectors searching for music paintings to decorate a dance studio, mommy and me musical space, or school music room won't want to miss the many dancing princess scenes we carry.
In Cinderella Dancing in the Starlight, Cinderella dances with her prince charming under the starlight as her fairy godmother Bibbidi Bobbidi Boos in the background.
In Beauty and the Beast Dancing in the Moonlight, Beauty dances with the Beast beneath the moon and the loving eyes of the little footstool. Chip, and Mrs. Potts.
In Sleeping Beauty Dancing In The Enchanted Light, Aurora is twirled beneath sunshine beneath the watchful gaze of the good fairies — Flora, Fauna, and Merryweather.
What dance lover wouldn't love these enchanting scenes?
Shop Fine Art For Music Lovers In California
Shop fine art for music lovers at the California art galleries of Thomas Kinkade. We look forward to helping you find the paintings that sing to you at our Carmel, Placerville, and Monterey Bay locations.