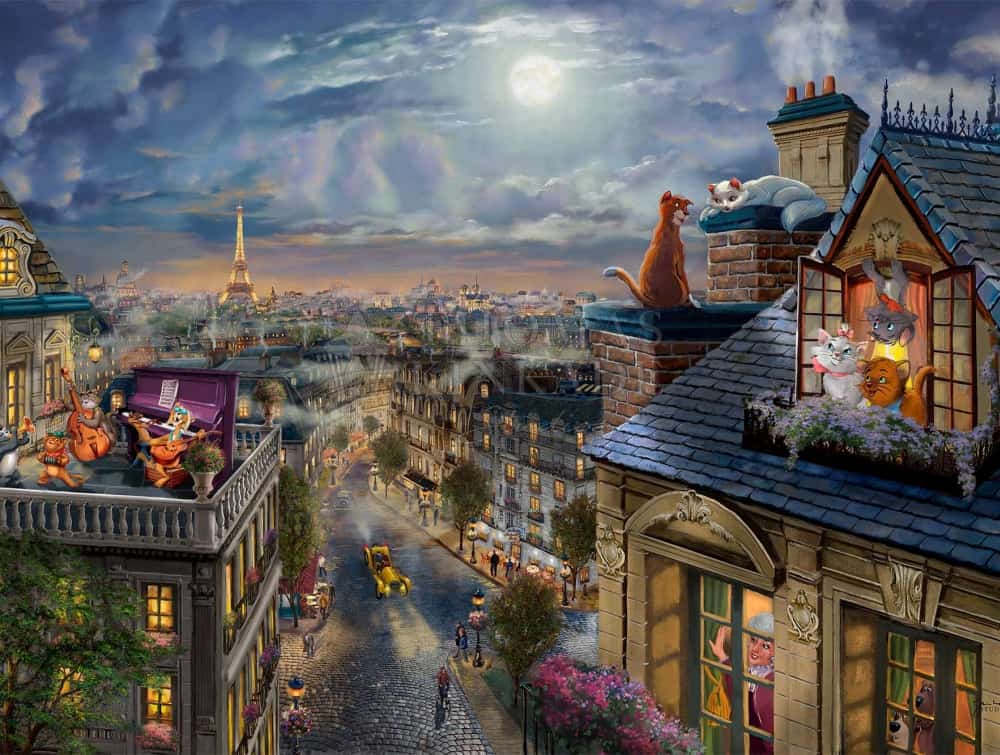 Art Notes
All around the world, Paris is known as the "City of Love." Jazz music floats in the night air serenading the city and all who call Paris home. The moonlight shines down brightly, and it is here where the love story for Duchess and Thomas O'Malley continues. Marie, the hopeless romantic, joins her brothers, Berlioz and Toulouse, quietly watching the night play out on the windowsill.
The Aristocats – Love Under the Moon by Thomas Kinkade Studios® captures the magic of Paris and celebrates the romantic story of two beloved Disney characters.
Key Points
The Aristocats – Love Under the Moon is the second Thomas Kinkade Studios Limited Edition Art to feature Duchess, Thomas O'Malley, Marie, Berlioz, Toulouse, and other beloved characters from Disney's 1970 animated feature film. The first painting is titled The Aristocats.
Scat Cat, Billy Boss, Shun Gon, Hit Cat, and Peppo provide the music to set the mood for this romantic scene.
Can you find Madame Adelaide Bonfamille in this painting?
The Aristocats was inspired by the true story of a Parisian family of cats, circa 1910, that inherited a fortune.
Disney legend, Phil Harris, voiced Thomas O'Malley, while Eva Gabor was the voice of Duchess in Disney's 20th animated feature.
Music legend Maurice Chevalier came out of retirement to sing the film's iconic title song "The Aristocats."
Copyright: © Disney © Art Brand Studios, LLC. © Thomas Kinkade Studios, All rights reserved.
Title The Aristocats – Love Under the Moon
Published January 2021
Collection Disney Dreams Collection