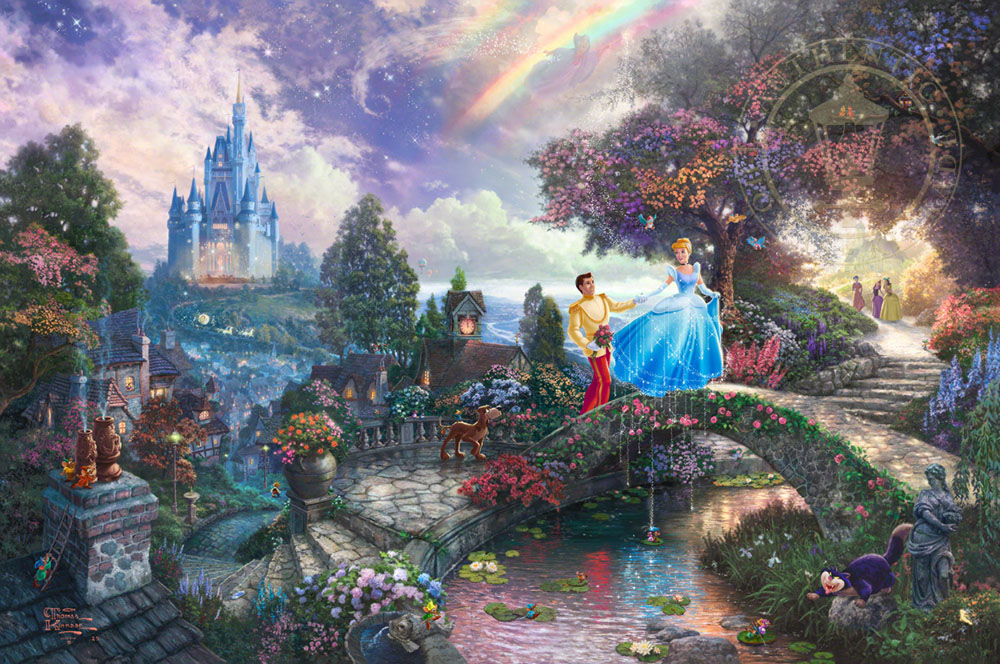 Celebrate the little princess in your life with Disney princess paintings and art at our Thomas Kinkade galleries in Carmel, Monterey, and Placerville. Our Disney princess fine art is perfect for both children's rooms and for decorating the spaces of the Disney-loving child at heart. Give a gift or start a collection with these timeless, high-quality works of art. They are sure to please for generations to come.
Disney Magic Meets The Painter of Light™
Known as the Painter of Light™, Thomas Kinkade uses vibrant colors with special attention to the way light plays on a scene to create a magical work of art. For example, in Kinkade's Little Mermaid Falling in Love, the setting sun creates a magical setting for Ariel and Eric and showcases the exciting life both above and below the sea.
You'll see this same magic as Aladdin and Princess Jasmine soar above the twinkling lights of Agrabah in the painting, Aladdin. Of course, a Disney princess collection wouldn't be complete without an enchanting painting of Belle dancing with a dignified Beast as in, Beauty and the Beast Dancing in the Moonlight.
Princesses You Know & Love
You'll feel the euphoria of love triumphing over evil as Sleeping Beauty and her prince dance  "happily ever after" in Sleeping Beauty Dancing in the Enchanted Light. Rapunzel and Flynn Rider get tangled up in exciting adventures in Tangled up in Love.
With exciting adventures, evil villains, woodland friends, beautiful ball gowns, and of course, a charming prince, it's no wonder that everyone loves Disney princess stories. Other Disney princess art that's sure to please fans of all ages include:
A Timeless Gift To Treasure
A Thomas Kinkade Disney painting would make a timeless keepsake for both the young and the young at heart. Imagine the excitement of giving the little girl in your life the enchanting light-filled painting of Rapunzel and Flynn in Tangled. Let your teen know that wishes do come true with the Cinderella painting, Wishes Granted.
Perhaps your mother or grandmother would love a gift of romance with the painting, Romance Awakens. Whether you're looking to give a gift for a birthday, wedding, anniversary, or Christmas, you'll find something beautiful and lasting in our collection of Disney princess art.
Disney Princess Wall Art At Thomas Kinkade
See the delightful details of Kinkade's Disney princess paintings for yourself. Visit us today in Carmel, Monterey or Placerville, California to see which Disney princess painting would make a wonderful addition to your home decor. Not only are these paintings beautiful, but with our high-quality materials and craftsmanship, they are sure to last through many a "happily ever after."