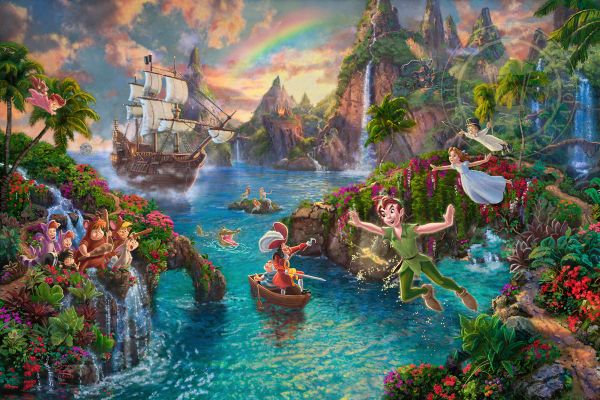 Need some family room decorating ideas? It's tempting to pick out wall art that goes with the furniture or compliments the drapes, but why not choose artwork the whole family can enjoy.
At the Thomas Kinkade Galleries of Carmel, Monterey, and Placerville, California, we carry Disney movie paintings that are just perfect for all types of family rooms.
Iconic Disney Meets Iconic Paris
The Aristocats — Love Under the Moon features Disney's iconic cat family with a backdrop of one of France's most iconic cities. The Eiffel Tower glows warmly in the background as Duchess, Thomas O'Malley, and the kittens enjoy a cozy night of family and jazz playing friends.
You can see the busy, cobbled streets of Paris below, but this sweet group is above all the hustle and bustle — safe at home with their beloved Madame.
The Warmth & Fun Of A Big Family
Puppies race home, snuggle close to mom and dad, climb the furniture, and explore the riverbank in 101 Dalmatians. Isn't that the way with big families? There is always a sibling nearby to talk to, play with, or get into trouble with, but it all happens within the warm glow of a house just waiting to welcome us all home.
Excitement In The Sea & Sky
The action takes place on land, on the sea, and in the air in Disney Peter Pan's Neverland. Kids and parents alike will have fun examining lounging mermaids, rough and tumble lost boys, the majestic Jolly Roger pirate ship, and Peter, Michael, Wendy, and John soaring through the sky.
We're always a child in our parent's eyes. Remind children that home will always be their Neverland when you decorate the family room with this whimsical Disney painting.
Everybody's Favorite Elephant
Family-friendly decor appeals to both kids and kids at heart. What better way to do that than with the joyful painting Disney Dumbo. Kangaroos and giraffes peer out of brightly covered wagons. Flags flap happily at the top of a giant circus tent. Soaring down to meet his mom and his fans, the main attraction in this Disney Limited Edition is definitely Dumbo.
Bright, Happy Wonderland Color
If bright, beautiful, and peaceful is more your family's style, we invite you to explore our fine art painting of Disney's Alice in Wonderland. A riot of lush, rich color is the perfect balance to a calm stream and tranquil forest. But what's that, that Alice is pointing at?
Beneath the calm of it all adventure awaits.
Shop Family Room Paintings Today
Add a little more interest and adventure to your family room with Limited Edition fine art. Our Disney paintings beautifully captured your favorite characters and movie scenes with only the finest materials. So, you can create a focal point to your family's together time that will last in more than just their memories.
Contact us at Thomas Kinkade Carmel, Monterey, or Placerville to place your order today. Or, stop on by our California galleries to view these paintings in person.