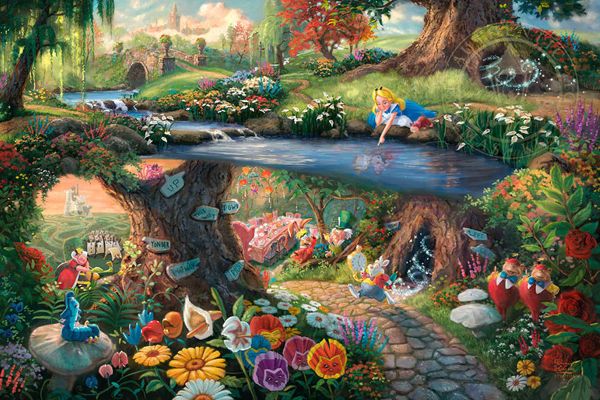 Brighten up the rainy season with cheerful paintings to accent your spring decorating from the Thomas Kinkade galleries in Carmel, Monterey, and Placerville. Why settle for the same old drug story bunnies and Easter eggs, when springtime decor can say more about you and your personal tastes.
We invite you to explore our selection of blooms, cottages, and a dash of Disney to lighten your mood and your rooms.
Create Happier Spaces With Springtime Pastels
Say goodbye to the humdrum of gray days when you surround yourself with soothing pastels. Sunlight drenches the purples, pinks, and blues in paintings like Gardens Beyond Spring Gate and Beyond Spring Gate.
Displaying these softer color schemes can give your eyes a peaceful place to rest and add a touch of soft bliss to any room. Hang them in the guest room, a reading nook, or kitchen for easy access to a smile.
Brighter Rooms With Paintings Of Blossoms
When we think of springtime, lush greenery and bright pops of color are probably some of the first things that come to mind. Stoney Creek Cottage and Spring Gate both highlight sunshine dappled gardens of rich green, red, lapis, and magenta.
Turn work into play. Invigorate your home office or home school spaces with energetic, colorful spring paintings.
Delightful Decor Featuring Disney
What's more cheerful than a Disney adventure? Join Mickey as he brings a rainbow of colors to life in Fantasia. Tiptoe through the tulips with Snow White in Snow White Discovers the Cottage. Let your imagination drift into a garden wonderland with Alice in Disney's Alice in Wonderland.
Uplift kid's room, family room, libraries, and game rooms with selections from our collection of joyful Disney paintings.
Cheerful Paintings In California
With art galleries in Placerville, Monterey, and Carmel, it's easier than ever to find the right Thomas Kinkade gallery painting to cheer up your home this spring. Why not find a unique gift to brighten a loved one's day? Stop by or contact us today to place your order.