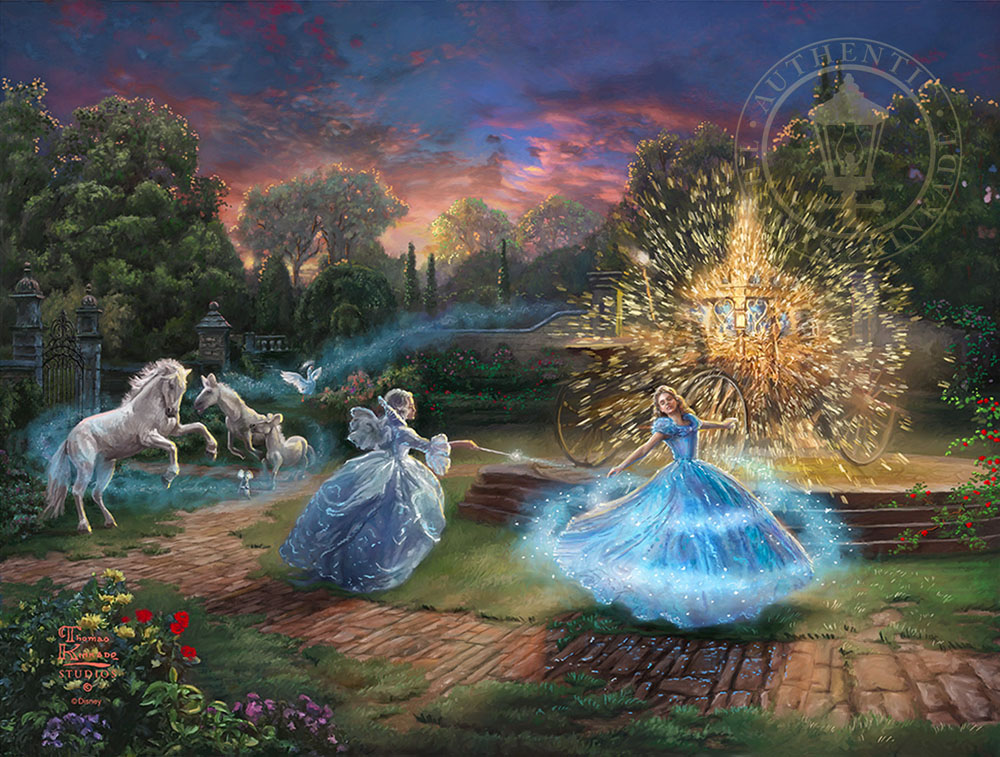 Visit our California Thomas Kinkade art galleries in Monterey, Carmel, and Placerville to be swept away by the magic of our Disney Cinderella paintings. Masterfully painted with charming details and bright colors, this Cinderella-themed fine art is beautiful and, just like this iconic princess story, created to last generations.
A Timeless Fairytale
The story of "Cinderella" has been told for centuries in many different cultures, languages, and countries. Even though the details and culture of this classic fairytale might differ from region to region, the timeless theme of romance, self-discovery, and believing that dreams really do come true, remain the same.
A Beloved Disney Classic
Disney's beloved animated story of Cinderella debuted on the big screen in 1950. Since then, it has become a cherished movie for children and adults alike. We have captured iconic scenes from the animated classic with exquisite detail and color. Experience the nostalgia of Disney's Cinderella with paintings such as:
These Cinderella paintings would look delightful in a child's bedroom, pediatric office, library, classroom, or nursery.
Live-Action Magic
Disney's 2015 live-action release of Cinderella lets us relive the romance, magic, and enchantment of Disney's original classic, but with a modern twist. Our wall art from this updated favorite is sure to thrill the Cinderella fans in your life. Consider adding one of the following paintings to your home decor:
Dreams Really Do Come True
The iconic Cinderella's Castle stands majestically at each of the Disney parks around the world. Visitors from near and far recognize it as a symbol that dreams really do come true. Let the little princess in your life know that anything is possible with Cinderella castle art.
A Cinderella painting from one of our galleries would make a cherished gift for the Cinderella fan in your life. Whether you are looking for a birthday gift, Christmas present, or something to let your princess know how much she means to you, you'll find something truly magical at Thomas Kinkade.
Cinderella Wall Decor In California
Bring the enchantment of Cinderella into your life with canvas art from one of our California Thomas Kinkade art galleries in Monterey, Carmel, and Placerville. Our helpful art consultants are ready to help you find the perfect piece for your space. Visit us today to get started on your Cinderella art collection.