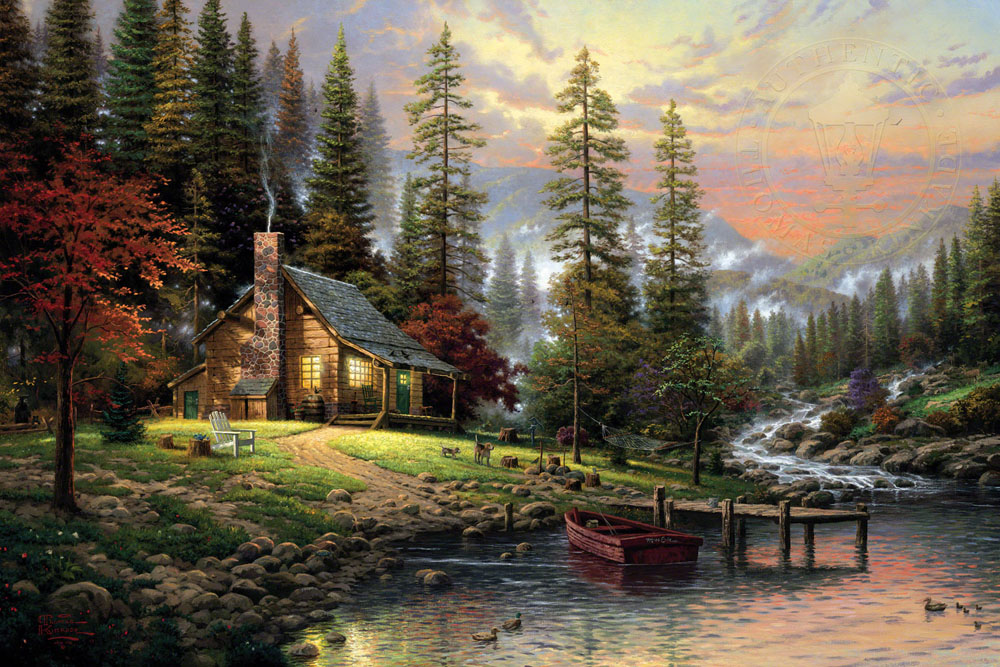 See gorgeous canvas paintings of cabins, lodges, and country scenes at one of our Thomas Kinkade Signature galleries in the Monterey Bay area. Each illuminated scene draws you in and relaxes you. Why reserve your most peaceful moments for the few times a year when you can get away? Bring the tranquility of the cabin, lodge, or country home with you today.
Country Art That Speaks To You
Some of our beautiful canvas paintings of cabins, country scenes, and lodges include:
Many of our enticing cabin paintings feature glowing, peaceful windows that share a sense of the warmth and comfort inside. Gorgeous streams that flow nearby and snowcapped mountains rise majestically above. A fly fisherman casts both his bait and his cares away. Each cabin, lodge, and country painting sends you on a mini-mental vacation that rejuvenates your mind on a hectic day.
Paintings Of Nature's Getaways
Experience and share the peaceful outdoors year-round. So many of these canvas paintings are touched with that "something special" that would lighten up any office, library, or den. The serenity of the scenes is bound to make any day a better day.
These country paintings are amazing gifts for the outdoorsman or nature lover. Need a Father's Day gift, a birthday gift, or an anniversary present? Let our friendly and talented Art Consultants help you choose the perfect country painting and the perfect frame to match. There is something for everyone.
Peaceful Country Paintings
Come on into one of our Thomas Kinkade Signature galleries in the Monterey Bay area today to explore our collection of cabin, lodge, and country art. Our professional and knowledgeable staff is ready to assist you with any questions you may have. We look forward to your visit.