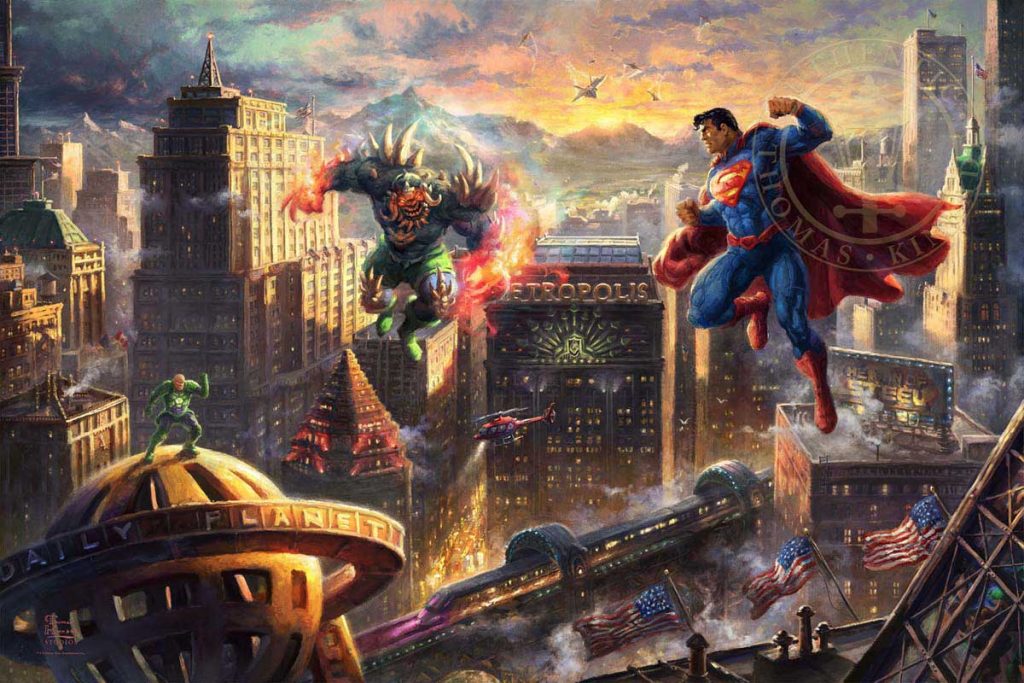 For dorm room wall art that wows, check out comic paintings at one of our galleries. We have your favorite DC heroes and villains just waiting to add the decorative punch you're looking for in your new space. One of the great things about college apartments is the opportunity to make a space that truly reflects your hobbies and interests. Our Limited Edition artwork will have you collecting more than just comic books.
Your Space, Your Rules
At Thomas Kinkade's Inspiration Art Gallery, we have the perfect size, frame, and lighting advice to make your superhero paintings really pop. Make your study and entertainment space all about you. Whether you decide on one epic centerpiece or a whole series of comic character scenes, we have you covered.
Bring Your Big Screen Heroes Home
You've been watching the movies for years. Now, it's time to bring your favorite DC comics to life in your own home. Whether you're a fan of Wonder Woman, Batman, or the whole Justice League, we've captured them in ways you've never seen. Some of our most popular comic paintings include the following:
A College Room Conversation Piece
In each of our pieces of comic book fine art, you'll find more than just an attention getter. You'll find a wealth of hidden gems. Light and talent bring these action-packed scenes to life. There's no such thing as just the background in these paintings. Everything from the seemingly innocent bystanders of the crowd, to building signs and banners, carry secrets for the truly die-hard comic book fan to find.
Deck Out Your College Dorm
At Thomas Kinkade's Inspiration Art Gallery, you won't find the same old superhero poster everyone else has. We're excited to show you how comic paintings can kick your dorm room or bedroom decoration up a notch. Stop by our gallery today to see Harley Quinn, Wonder Woman, Batman, Superman and all the rest in all their glory.