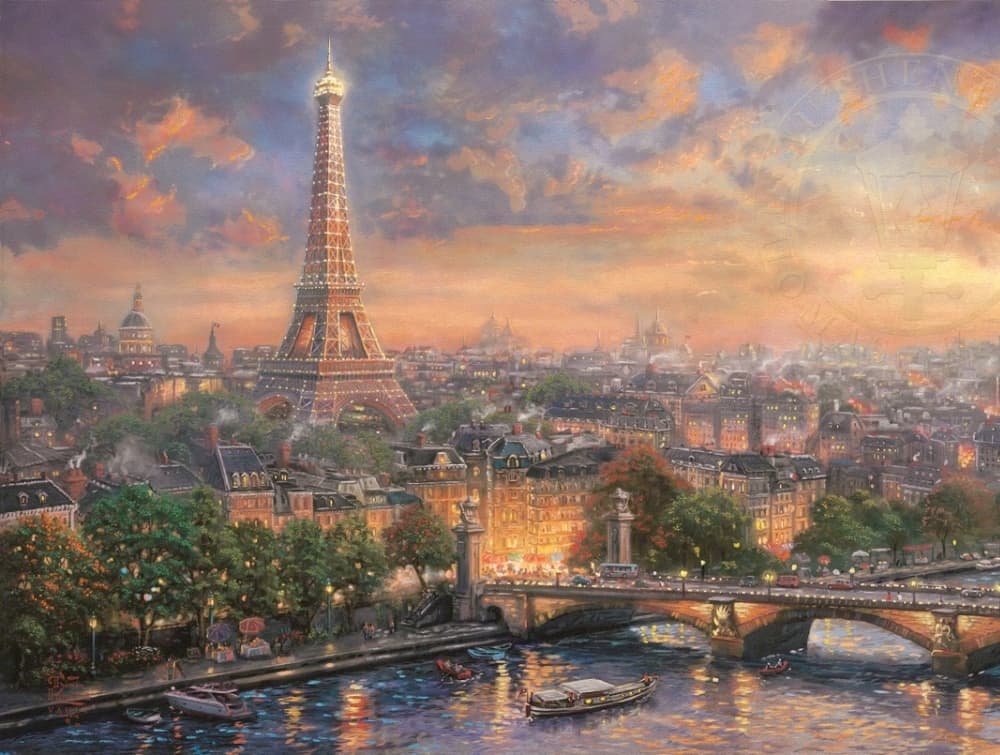 If you are looking to add a touch of beauty and style to your home, office, or vacation home, visit one of our Thomas Kinkade art galleries in the Carmel, Placerville, or Monterey area to check out rural and urban paintings. This wall art captures light and detail in an array of beautiful landscapes.
Whether you are captivated with the quiet splendor of a rural setting or the excitement of the city, you will be in awe at the exquisite detail in each stunning piece.
The Charm Of The Rural Landscape
Many of us have a great love for rural landscapes. In the paintings from our California galleries, you will find picturesque country settings captured onto canvas in a way that transports you to each location. For example, you can escape to a cozy cabin nestled among towering pines with Away From It All.
In this painting, a fisherman casts his line into a tumbling stream as he patiently waits for a nibble beneath the moon's twilight. Light streams from the cabin's windows, beckoning with a warm welcome when the fisherman returns with the day's catch.
You might also enjoy these paintings as part of your rural decor:
Exciting Urban Citiscapes
You don't have to leave home to experience the thrill of some of the world's most exciting cities. Our cityscapes include charming details that bring life to these urban paintings. In Radio City Music Hall, you'll experience the hustle and bustle of the holiday season as crowds gather to watch the world-famous Rockettes perform their Christmas show.
In Viva Las Vegas, you'll be dazzled by the lights sparkling from the Strip and the soaring casinos. In Paris, City of Love, the Eiffel Tower stands majestically over this romantic city.
Other memorable metropolitan paintings include:
The Signature Gallery Experience
To truly enjoy our rural and urban artwork, you'll want to visit one of our California art galleries and see these paintings in person. Here you will find a special viewing room specifically dedicated to Thomas Kinkade's works where you can see the vibrancy and details in his art.
Visit us today in Monterey, Carmel, or Placerville. Our art consultants can help you find the perfect big city or small town decor for your space.