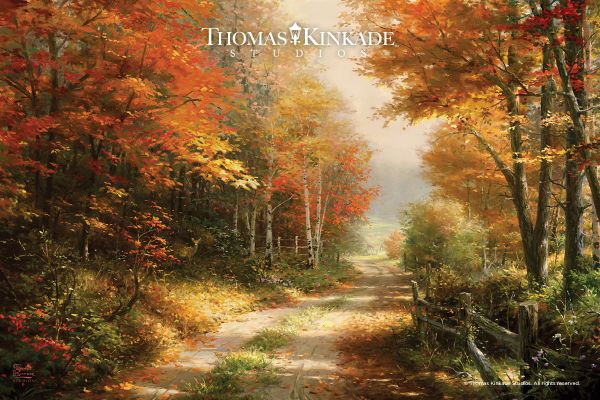 People are working from home more than ever, yet home offices are still neglected regarding decor. Hanging art in your office can improve your workflow as well as how the room looks. Pausing for a few seconds to look at eye-pleasing art on your wall can stimulate the senses, boost creativity, and keep anxiety at bay.
Choosing the right wall art for your office can be overwhelming. Still, at Thomas Kinkade Galleries, we know you don't have to be an interior designer to create a professional-looking office.
Leverage Color Psychology Hacks
Blend With Existing Decor
Set The Perfect Mood
Impress Clients & Drive Business
Go With Your Gut
Leverage Color Psychology Hacks
Scientists have long known about the connections between color and people's moods, productivity, and stress levels. For example, blue is mentally stimulating and can help increase focus, while yellow lifts your mood and boosts creativity. On the other end of the spectrum, green is relaxing and can even soothe anxiety.
Suiting The Colors To Your Work
Given the potential to directly impact your work, the colors used in a piece of art are essential to consider. The colors to look for or avoid depending on the type of work you do. Innovators and problem solvers will benefit from stimulating colors like blue and yellow. Opt for natural greens to guard your mental health if you're in a high-pressure situation.
Blend With Existing Decor
Unless you're completely redoing your office decor, it's crucial to think about how your new artwork will fit in with what's already in your office. An excellent rule of thumb is to pick a piece that shares at least one color with your existing decor. That will help keep your new painting from disrupting the room's visual balance.
If you're covering bare white walls, choose artwork with brilliant colors to make them pop. For darker walls, look for pastel shades to add brightness and contrast. When in doubt, neutral tones work well in any office.
Set The Perfect Mood
The mood is a subjective term that can be tricky to discuss with non-artists. You can think of mood as a spectrum—specific paintings fall between two broadly-defined extremes. Minimalist styles tend to evoke feelings of calm and order. Colorfully complex and chaotic art can energize a room all on its own.
Tranquil Or Exciting – Depends On Your Job
The right mood to look for in artwork for your home office depends on your particular job and tastes. Analysts of all stripes may be drawn to tranquil art, like uninterrupted natural landscapes. On the other hand, creatives might be inspired by bold abstract or surreal paintings that encourage them to think and imagine.
Impress Clients & Drive Business
If you're an entrepreneur or a freelancer, consider art that will reinforce your professional image. This is particularly critical for those who make regular video calls or produce video content for their business. Art can serve as icebreakers and conversation pieces. The right painting can impress clients and business partners alike.
Art Reflects Company Culture
The ideal office wall art for freelancers or entrepreneurs reflects your tastes and your company's mission. For example, the art you hang in your office should exude feelings of success, direction, and power if you work in the legal or financial sector. Professionals in more lighthearted industries should display art that reinforces the cheerful, fun elements of their branding. Whichever theme you choose, use it for all of your office decors to visually communicate a single, cohesive message.
Go With Your Gut
The most important rule for choosing home decor is to go with whatever appeals to your tastes instead of what someone else says fits whatever aspirational mood you're hoping to create. Remote workers spend most of their days in their offices, so it's wise to display art that interests, motivates, and inspires you.
A painting of a snowy forest in various shades of blue might soothe and inspire you, but may be too dull or spooky for the next person. We recommend visiting art galleries in person whenever possible and reflecting on how each piece makes you feel.
Find Wall Art For Your California Home Office Today
Since you'll use your office nearly every day, it's worth investing time in making it a place you love to spend time in. Not sure where to start your art search? If you live in California, visit Thomas Kinkade Galleries in Carmel, Monterey, and Placerville. Our art consultants are always happy to discuss your vision and offer expert recommendations.