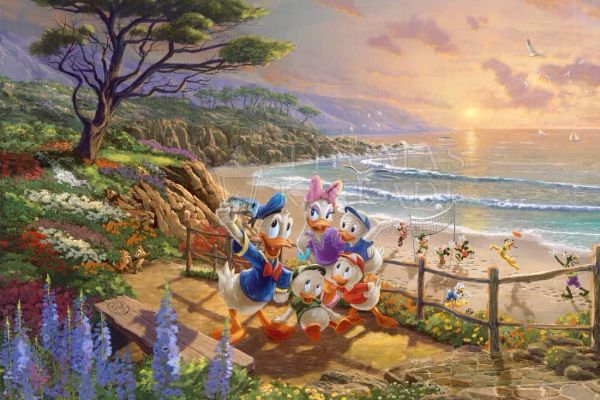 Long evening walks with the sand between your toes can be a part of your every day when you display beach sunset paintings from the Thomas Kinkade galleries of Carmel, Monterey, and Placerville, California.
Why wait for time, money, and energy to make it to the seaside when you can bring the sand and shore home with you?
California Beach Wall Art
Yes, the world is full of landscapes worth capturing on canvas, but as many locals will attest, there's nothing like a California coastal sunset. It's the stuff of romance and relaxation, and for many of us, it's right in our backyards. When's the last time you took the family to Santa Monica, meandered through Capitola, or had a picnic while watching the waves come in, in Monterey?
Enjoy Coastal Scenes At Home
If you've been missing the beach or want to bring those same easy-going vibes into your everyday spaces, we invite you to experience the difference fine art can make.
Seaside Fun At Santa Monica Pier
Families, friends, and fun are what Santa Monica Pier is all about. For the full experience, drop in just as the sky prepares for nightfall, with nearby lights reflecting on the water. You can relive both beautiful memories and stunning scenery any time of day with the painting Sunset At Santa Monica Pier.
Dreamy Capitola At Day's End
Need a little more peace or calm? Maybe you're looking for a focal point for your meditation studio or yoga space. Accent your home office, studio, or living room with the watercolor skies and warm glowing windows of Capitola Sunset. The pinks and blues featured in this painting put those California palms to sleep. Think about what it will do for your stress.
Dusk Along The Monterey Bay Shoreline
You can almost hear the gulls calling and the sleepy trees rustling as you view Sunset On Monterey Bay. The tide is in, and the cool, earthy shoreline showcases a coastal walking trail just waiting for you as the sun gently sets over a gently rippling ocean.
Disney Sunset Paintings
Beach time is just as fantastic for families as it is romantic for couples or invigorating for morning joggers. Remind kids and kids at heart of beachside memories gone by and those still to come with the perfect beach sunset painting for the whole family: Donald & Daisy – A Duck Day Afternoon. Every Disney lover will be able to spot a recognizable face as your favorite feathered friends take a selfie in front of a sunset over a game of beachside volleyball featuring Mickey, Goofy, Pluto, and more.
Shop Beach & Sunset Paintings Today
Stop on by our California galleries or contact us to place your order today. We have convenient locations in Carmel, Monterey, and Placerville. Check out our selection of wall art featuring sunsets on the beach, or have one of our friendly in-house Art Consultants introduce you to our wide range of Limited Edition canvases featuring both ocean themes and the setting sun.