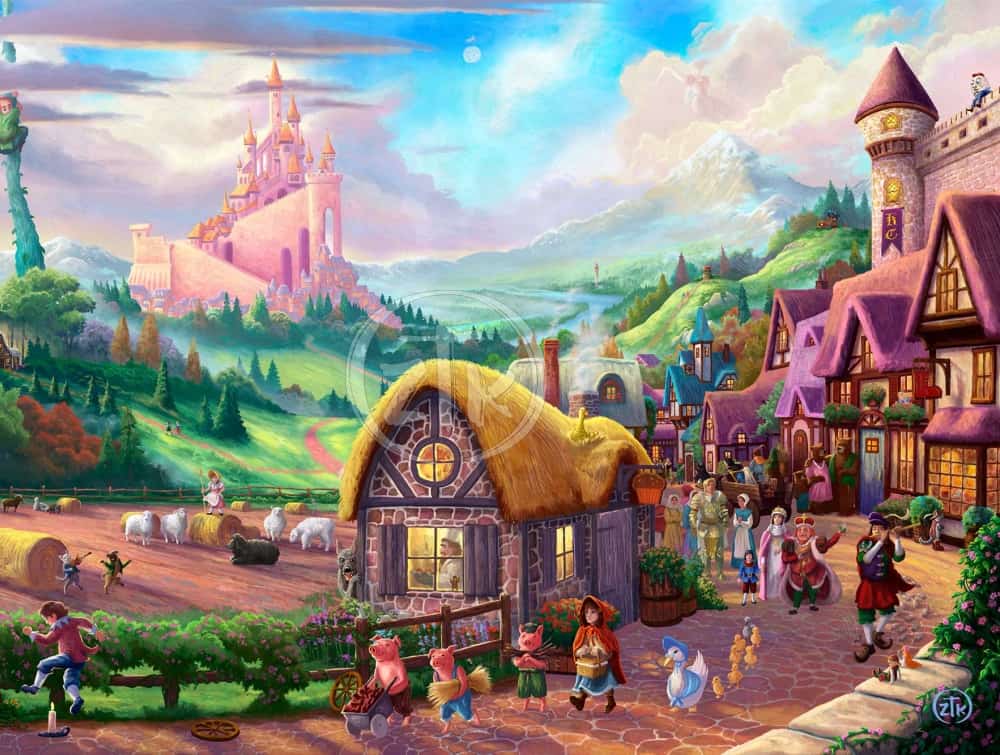 Art Notes
There is an innocence and fun that comes with revisiting childhood stories. Mother Goose nursery rhymes and fairy tales from both the Brothers Grimm and Hans Christian Andersen evoke smiles and nostalgia from even the most quieted adult imaginations. In my work Storybook Land, I have attempted to capture many of my favorite childhood tales in a whimsical view of a fantasy realm where these adventures are true, and the colorful characters involved in them all might exist.
Look closely and see that here, there is, indeed, an old woman who lives in a shoe and Jack and Jill did go up that troublesome hill. It is also the case that giants tend to live at the top of beanstalks and Goldilocks truly had an unfortunate run-in with three unsuspecting bears. Join me to fully explore this magical place. There are over 30 references to popular nursery rhymes and fairy tales rendered into this composition.
Think back and let the child inside you revel in their rediscovery and give the children in your life a chance to enjoy your telling of the stories. I hope this painting brings you the happiness I felt in its creation, and as always, I want to thank you all for sharing my adventure in art.
Key Points
Storybook Land is the fourth Limited Edition Art release in Zac Kinkade's Worlds of Wonder series. The previous paintings in this collection are Transylvania, Santa's North Pole, and Heaven.
Of the over 30 fairy tale references included in this painting, several of them pay tribute to the Mother Goose nursery rhymes. In addition to Mother Goose herself, can you find Humpty Dumpty, Little Bo Peep, the Muffin Man, and the Old Woman's Shoe?
Zac portrayed the characters from the Cat and the Fiddle in the painting, including his beloved dog Poe.
Tributes to fairy tales by the Brothers Grimm include Little Red Riding Hood and Hansel and Gretel, who are making their way to the Witch's Cottage.
Can you spot the Golden Goose with her brilliant eggs?
Do you see the lone tower in distance with a rope of golden hair – another nod to the Brothers Grimm?
Can you find Thumbelina and the Ugly Duckling, some of Zac's tributes to Hans Christian Andersen?
Zac has included characters from other popular nursery rhymes in Storybook Land, including Goldilocks and the Three Bears, the Three Little Pigs, and of course, Jack and Jill who are fetching a pail of water.
Take a peek at the moon for extra fairy tale fun.
Do you see the fairy godmother? (Hint: Look up in the sky to see her, too.)
Did you know that Zac Kinkade collaborated with author Ashley Wellman to illustrate a children's book, The Girl Who Dances With Skeletons: My Friend Fresno? Zac has included Fresno in Storybook Land for you to find. (Hint: Look at the bales of hay.)
Copyright: © 2021 Art Brand Studios, LLC. All rights reserved.
Title Storybook Land
Published July 2021
Collection Worlds of Wonder