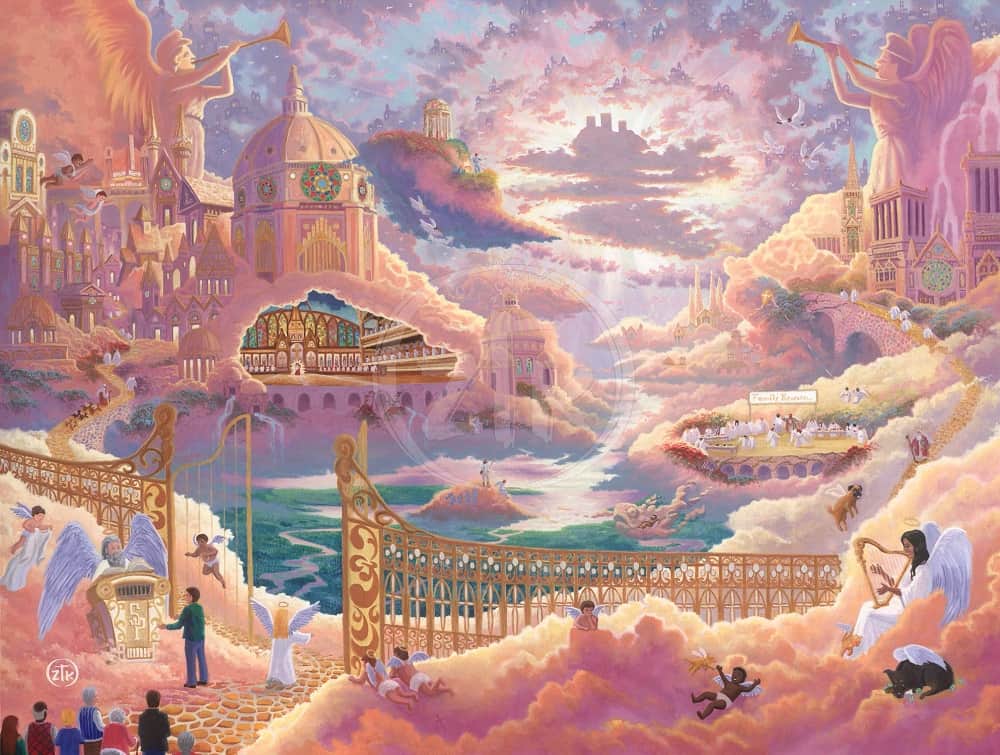 Art Notes
As children, we all have dreams of what heaven may be and of what joys we will ultimately find there. For many adults, I believe, those innocent early visions may still hold true later in life. In my latest painting in the Worlds of Wonder series, I explore the hereafter as my childhood-self for everyone to enjoy.
In Heaven, I embellish all the divine features of eternity that we might learn about in Sunday School with fanciful additions that we can all hope to be part of the Creator's grand design. Saint Peter watches the "Pearly Gates", checking the Book of Life for those who may enter. The "Heavenly Host" sings while angels go about their sacred interests. Good dogs and beloved cats await their former masters as a joyous family reunion proceeds in the background. Look closely and see an artist gazing into the sunlit sky, smiling as the glory that is above shines down for all of those still toiling below.
Other small surprises are hidden in the clouds, rendered to give a wink to the viewer and maybe hope to some for all that might be. Please enjoy your visit to Heaven, and I want to thank you all for sharing in my adventure in art.
Key Points
Heaven is the third Limited Edition Artwork in the Worlds of Wonder series. The first two paintings in the collection are Transylvania and Santa's North Pole.
This painting includes representations of activities that we hope to enjoy in heaven, including a "Family Reunion", a couple spending time together on a bench, friends fishing in the clouds, and children flying a kite. Do you see the Amusement Park and the "Cloud 9" Cinema?
Four architectural marvels are included in this interpretation of Heaven – the Notre Dame, Cathedral Santa Maria del Fiore, Borgund Stave Church, and the Basilica de la Sagrada Familia.
Do you see Jesus and 11 of his Apostles?
Can you find Saint Peter, Moses, Noah, Joseph, and Jonah in this painting?
12 Crosses are hidden throughout this artwork. Can you find them all?
Included is a loving tribute to Zac Kinkade's beloved dogs, Kunu and Poe.
Copyright: © Art Brand Studios, LLC. All rights reserved.
Title Heaven
Published July 2020
Collection Worlds of Wonder