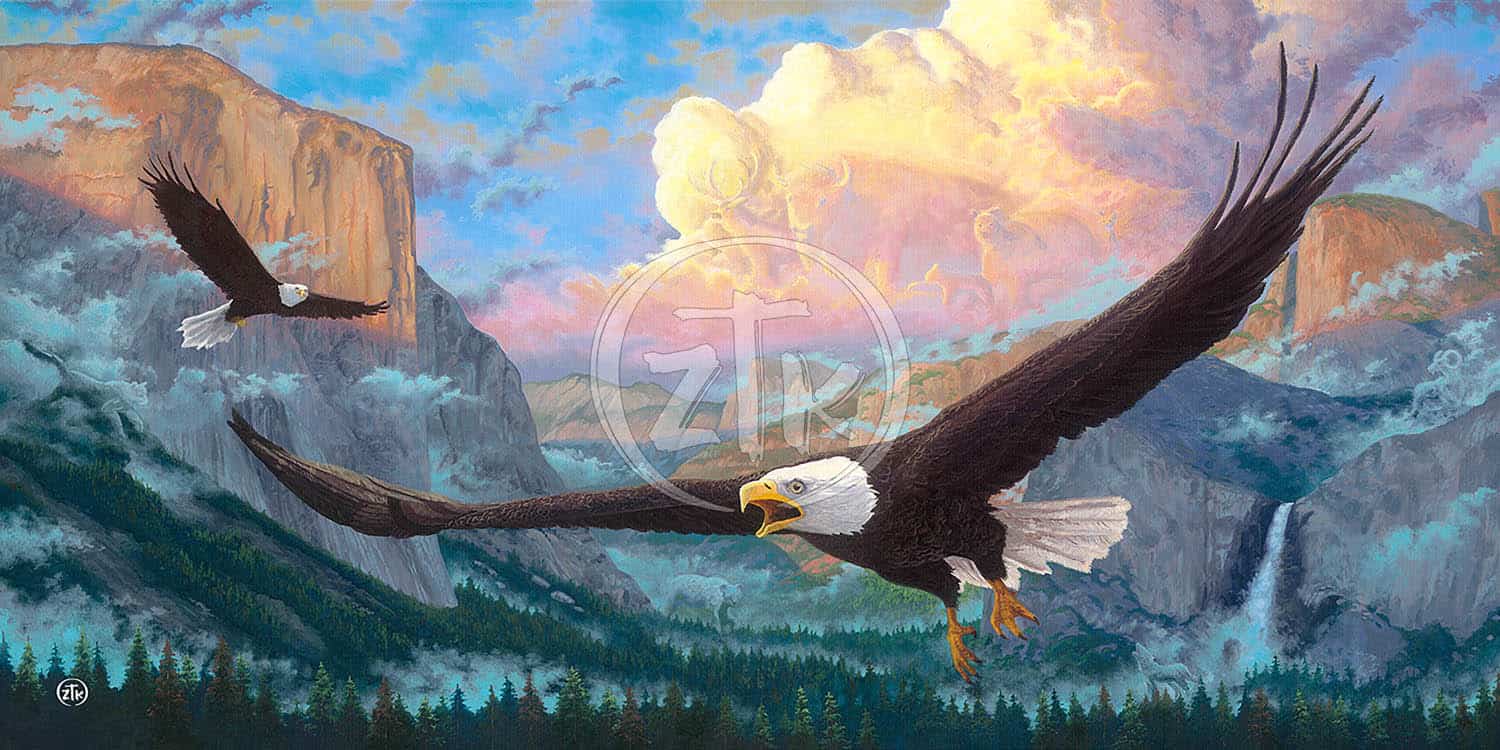 Art Notes
Ansel Adams, Thomas Hill, Albert Bierstadt and my uncle, Thomas Kinkade, are just a few of the artists whose visionary imaginations were captured by the sublime beauty of Yosemite Valley. I, myself, have a long history with this magical place, visiting it on several occasions with my father while on one summer ramble or another. It always struck me as true when Dad would comment that the tunnel view at Artist Point was akin to seeing the "face of God" as the perspective opens the valley to the wayward traveler. It is this very backdrop that I am using to finish my first series of paintings on America's Wildlands. The Spirit of Yosemite composition captures the iconic images of El Capitan, Half-Dome and Bridalveil Fall while paying homage to the majestic bald eagles that call the Valley home. In the clouds, see a menagerie of tributes to the other places visited on this particular artistic sojourn. While I hope the depiction of the Valley provides ample evidence of true glory in creation, I also wish that the indomitable nature of the spirit be felt as our majestic national symbol soars. Truly, it is impossible to do work that is comparable in standard to any of the mentioned masters of visual art but I sincerely enjoyed the challenge and want to share with you the outcome. And, as always, let me thank you for sharing my adventure in art.
Key Points
Spirit of Yosemite is the fourth and final painting in the America's Wildlands collection, which capture the beauty and iconic wildlife of some of the United States' stunning National Parks. The first three paintings in the series are Spirit of Guadalupe, Spirit of the Smokies, and Spirit of Yellowstone.
The bald eagle has been the national bird of the United States since 1782, and these mighty raptors are reported to nest in the famed Bower Cave region of the Yosemite Valley.
Can you find the mule deer, bison, and black bear mother and cub hidden in the clouds? These creatures are prominently featured in the previous three paintings in the America's Wildlands collection because they are some of the iconic animals found in those National Parks.
Do you see the other majestic wildlife hidden in the morning mist?
Copyright: © 2020 Art Brand Studios, LLC. All rights reserved.
Title Spirit Of Yosemite
Published February 2020
Subject Location El Capitan, Yosemite Valley, California
Collection America's Wildlands