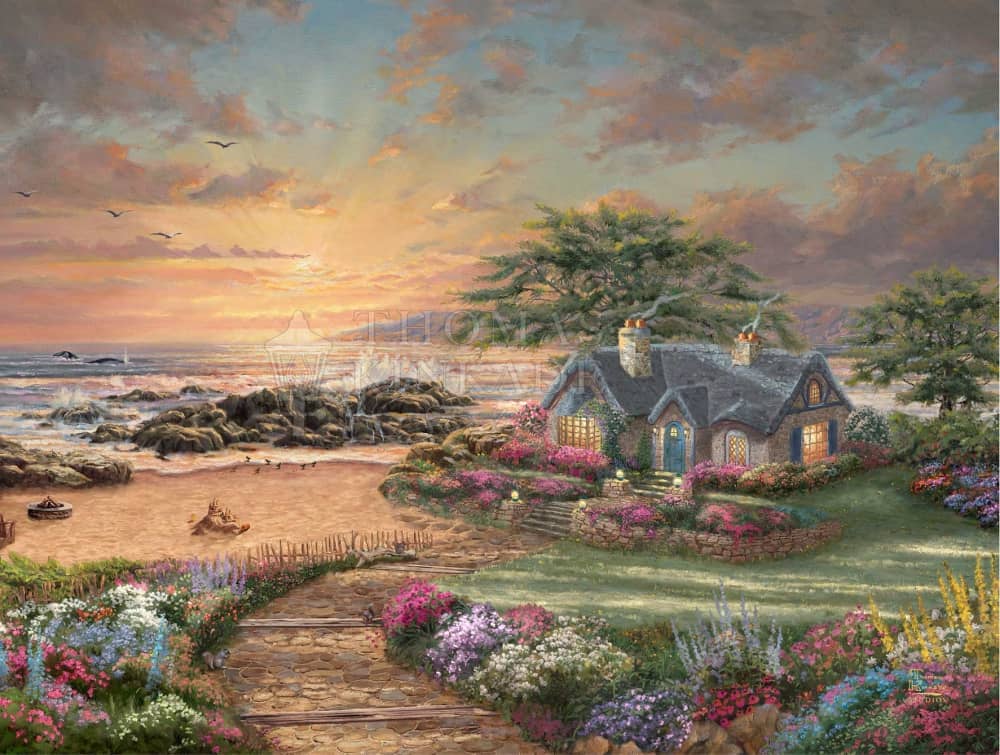 Art Notes
"The voice of the ocean speaks to the soul."
– Anonymous
The enchanting setting sun radiates a warm glow as the ocean waves crash against the rocks on the seashore. The serenity of early evening fills the air, accented by the flowers' beauty, the vibrant sunset, and the tranquil beach. The splash of the water from the breaching whales will bring a smile to those who are lucky to have witnessed their passing travels. The inviting cottage with its welcoming lights is the perfect place to enjoy Nature.
Thomas Kinkade Studios presents Seaside Cottage, an idyllic sanctuary for all to refresh their faith, spirit, and soul.
Key Points
Seaside Cottage portrays a signature Thomas Kinkade Studios cottage nestled against a spectacular coastal backdrop, perfectly capturing the tranquility of life at the shore.
The two chairs set beside a firepit with a sandcastle nearby are symbolic of family memories made at the beach. Time spent telling stories around a fire, having fun playing in the sand, swimming in the ocean, and going for long walks on the beach are only some of the special moments that so many of us enjoy on trips to the shore.
The pieces of driftwood are testaments to the power of the sea. Their beauty is symbolic of the transformative nature of spending time at the shore. Just as the sea molds the wood into something remarkable, time at the beach reshapes, rejuvenates, and refreshes each of us.
Seaside Cottage is filled with wildlife, including seagulls, shorebirds, and breaching whales. Can you find the pair of squirrels looking for a snack?
Two stately coastal Cypress trees stand behind the cottage providing shade and picturesque beauty.
Copyright: Art Brand Studios, LLC. © The Thomas Kinkade Estate, All rights reserved.
Title Seaside Cottage
Published July 2021