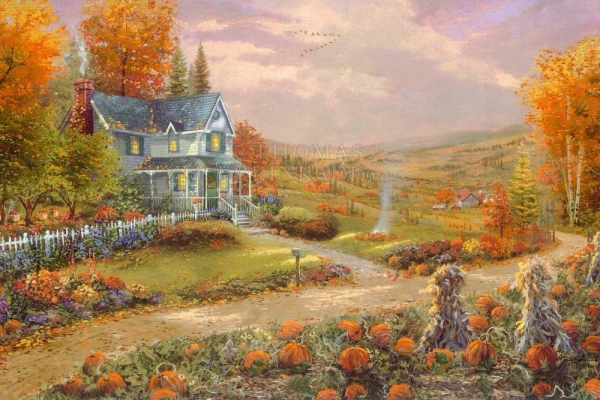 If you're already ready to leave the sweltering hot summer behind but not quite prepared for wreaths and sleigh rides, maybe it's time to start on your fall home decor. Invite fall in with autumn wall art at your entryways, home office, and anywhere else that could use a little touch of warm cinnamon vibes.
These 6 paintings are just a taste of our selection of paintings to welcome in pumpkin spice season.
1. Biltmore® in the Fall
Missing fall family vacations? Whether this year is going to be your first group trip in a while, or you're keeping things safe a little longer with a staycation, you can be swept away to enchanting North Carolina with Biltmore® in the Fall. Elegance & hospitality — this autumn painting exudes rich, warm colors and stately luxury. Hang it in a waiting area or foyer for full effect,
2. Autumn at Apple Hill
If the part you love the most about pumpkin spice season is pumpkins, you're going to love Autumn at Apple Hill. This pumpkin painting features a bounty of fall fruit and squash just ready for harvesting, baking, and sharing. Escape to a quaint country house surrounded by the season's scarlet reds, oranges, and lavenders. Display this autumn painting in the family room or kitchen.
3. A Walk Down Autumn Lane
Imagine yourself admiring the changing leaves along the sun-dappled forest trails of A Walk Down Autumn Lane. Can you spot the young deer watching you cautiously on your stroll and hear the rustling of red, orange, and yellow leaves? Take yourself there with this fall wall decor, or give it as a hostess gift during your fall visits.
4. Mickey and Minnie – Sweetheart Central Park
Couples, kids, and Disney lovers will enjoy decorating for autumn with everyone's favorite animated couple. Take out the scarves and sweater, stock your hot cocoa counter and invite in the smiles with Mickey and Minnie – Sweetheart Central Park. Maybe your ideal fall includes stealing special moments despite busy, big city life. A quiet moment in the park, a carriage ride in the cooling weather — this painting has it all, and so can you when you include it in your fall decor.
5. The Pumpkin Festival
Schools, libraries, family therapist offices, and pediatric medical offices can delight staff, parents, and children alike with Halloween paintings heavy on the pumpkin and light on the spook factor. The Pumpkin Festival combines everything kid-friendly about pumpkin spice season all in one joyful painting. Costumes, pumpkin patches, and fall festival fun abound.
6. Evening at Autumn Lake
Don't forget the comfort of just getting away from it all. In Evening at Autumn Lake, light spills from the windows of a cozy cottage surrounded by trees full of changing leaves amidst the backdrop of towering misty mountains. Decorate the man cave, family cabin, or hunting lodge for fall with this outdoorsy painting of fall.
Shop Fall Paintings In California
You don't have to wait for the Halloween candy to hit the shelves to welcome pumpkin spice season this year. Stop by the California art galleries of Thomas Kinkade in Carmel, Monterey, or Placerville to shop autumn paintings for decorating and gifting.