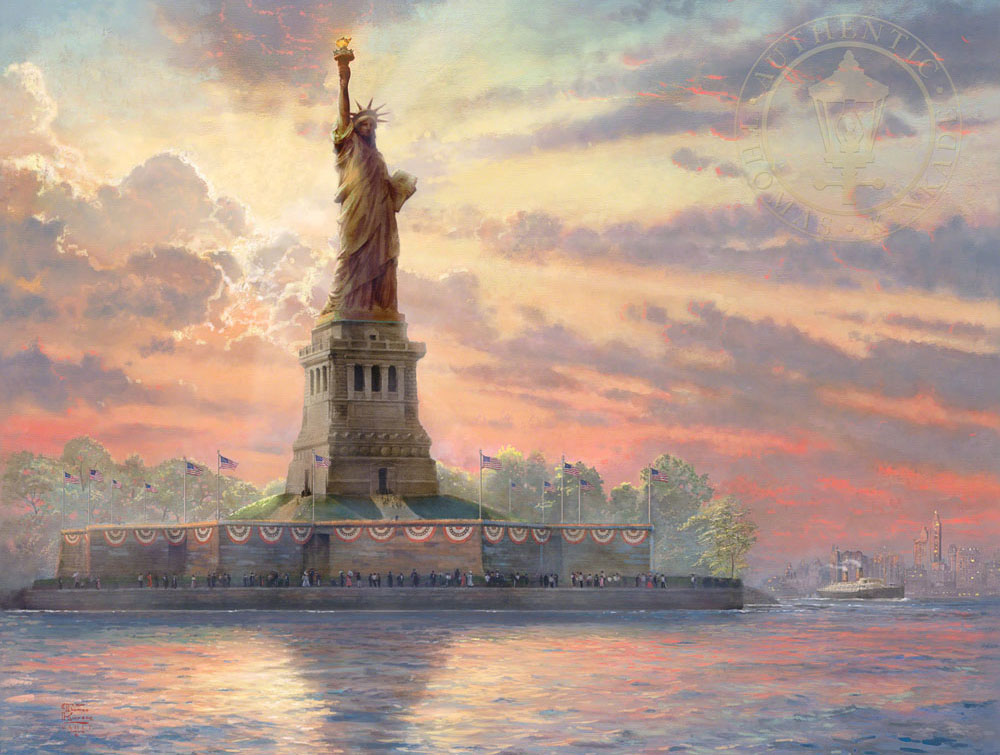 This summer decorate your home with 4th of July art that illuminates with a patriotic painting from Thomas Kinkade Carmel, Monterey, and Placerville. Thomas Kinkade loved his country and you'll feel that love and American pride as you view his delightful collection of 4th of July wall art. Come and see these unique paintings in person to appreciate the color and detail in each piece.
The Grand Red, White & Blue
What better way to celebrate America's independence than with a symbol of her freedom? The American flag reminds us of the sacrifices that were made for these freedoms, and that we must do all we can to preserve them.
In Kinkade's painting, America's Pride, the flag waves over our nation's capital beneath a colorful and dramatic sky. You can see a similar flag in the painting The Light of Freedom. In this painting, the flag soars against the New York skyline, with Lady Liberty holding her lighted torch high for all to see.
Iconic American Symbols
We help but think of freedom and American pride when we see the Statue of Liberty or visit some of the patriotic sites in America's great cities. Enjoy some of these symbols in your own home this 4h of July:
Thomas Kinkade Celebrates America
Thomas Kinkade celebrates his love of America through his beautiful renditions of patriotic scenes. He captures not only the beauty of these moments but the heart as well. When you buy one of these Limited Edition patriotic paintings, you'll not only get a beautiful work of art, but you'll get an heirloom piece designed to last for generations.
Honor America's Independence With Art
Show your American pride with 4th of July artwork from our California Thomas Kinkade galleries in the Carmel, Monterey, and Placerville. When you visit, our helpful art consultants will help you select a painting that will not only look great in your home, but will speak to your heart as well. Would you like to see how a particular painting would look on your wall? We offer free in-home showings so you can see for yourself.
Celebrate the 4th of July with your own Kinkade art today.