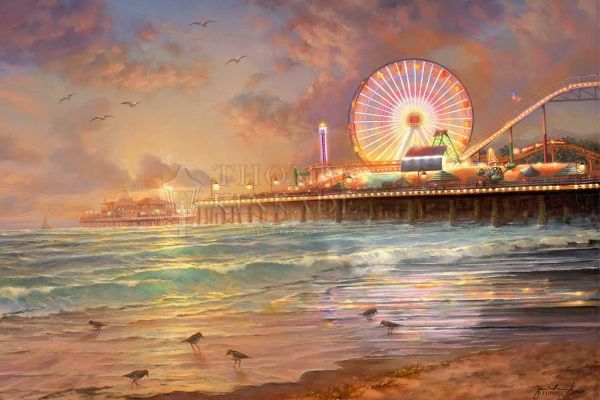 Paintings of the sea serve as a reminder of the sea, evoking feelings of freedom and adventure. Quaint sea towns and natural settings by the water inspire ocean and sea lovers. Thomas Kincade's ocean paintings capture many different settings, all infused with bright or diffused light. You can bring home the sea when you can't get to the beach with these four idyllic paintings selected by our art consultants!
Sunset at Santa Monica Pier
New England Harbor
Serenity Cove
Capitola Village
Sunset At Santa Monica Pier
The historic amusement park contains a wonderland built over the ocean. Sunset at Santa Monica Pier gives you a glimpse of the fun and fond memories possible by featuring a brightly lit Ferris wheel and other attractions. The unique lighting between afternoon and twilight paints gorgeous colors across the sky from the artist's vantage on an adjacent beach. Relax and contemplate Santa Monica Pier's memories at home or at work with this ocean painting.
New England Harbor
New England Harbor features epic views and a pristine definition of the water and land. This picturesque village leans right up to the water's edge. The artwork blends the lovely light of the North Atlantic with the homey feel of a cozy cottage in the foreground. This Thomas Kincaid piece has a storybook feel sea lovers will love as they stroll along the docks in their mind's eye.
Serenity Cove
Serenity Cove features a lovely white lighthouse shining over Lake Erie. Like so many symbols in Thomas Kincaid's ocean paintings, the beacon can represent the guidance offered by faith or transitions that show us new insights. The transitional light of sunset highlights the radiance of autumn foliage along with the inimitable beauty of the sky. Still waters invite reflection and evoke images of an afternoon spent exploring the massive lake.
Capitola Village
Capitola Village showcases the lovely transitions between the coast, sea, and sky— as well as the play of light of a fading sun featuring a kingly view available only from the tops of the nearby cliffs. In the artist's words, it reminded him of the Emerald City from The Wizard of Oz. The pink and blue houses in the town shimmer with the dim but vibrant light that beckons viewers nearer. A spectrum of blues and greens punctuated by white sea foam creates a breathtaking sea that dominates the right half of the canvas.
Thomas Kinkade Signature Galleries in Northern California
Visit one of our Thomas Kinkade Signature Galleries serving the Monterey Bay, Carmel, Central Coast, and Northern California areas. We have one of the largest collections of rare and sold-out Kinkade paintings in the USA. Contact us today to take home these and other Thomas Kincaid ocean art.