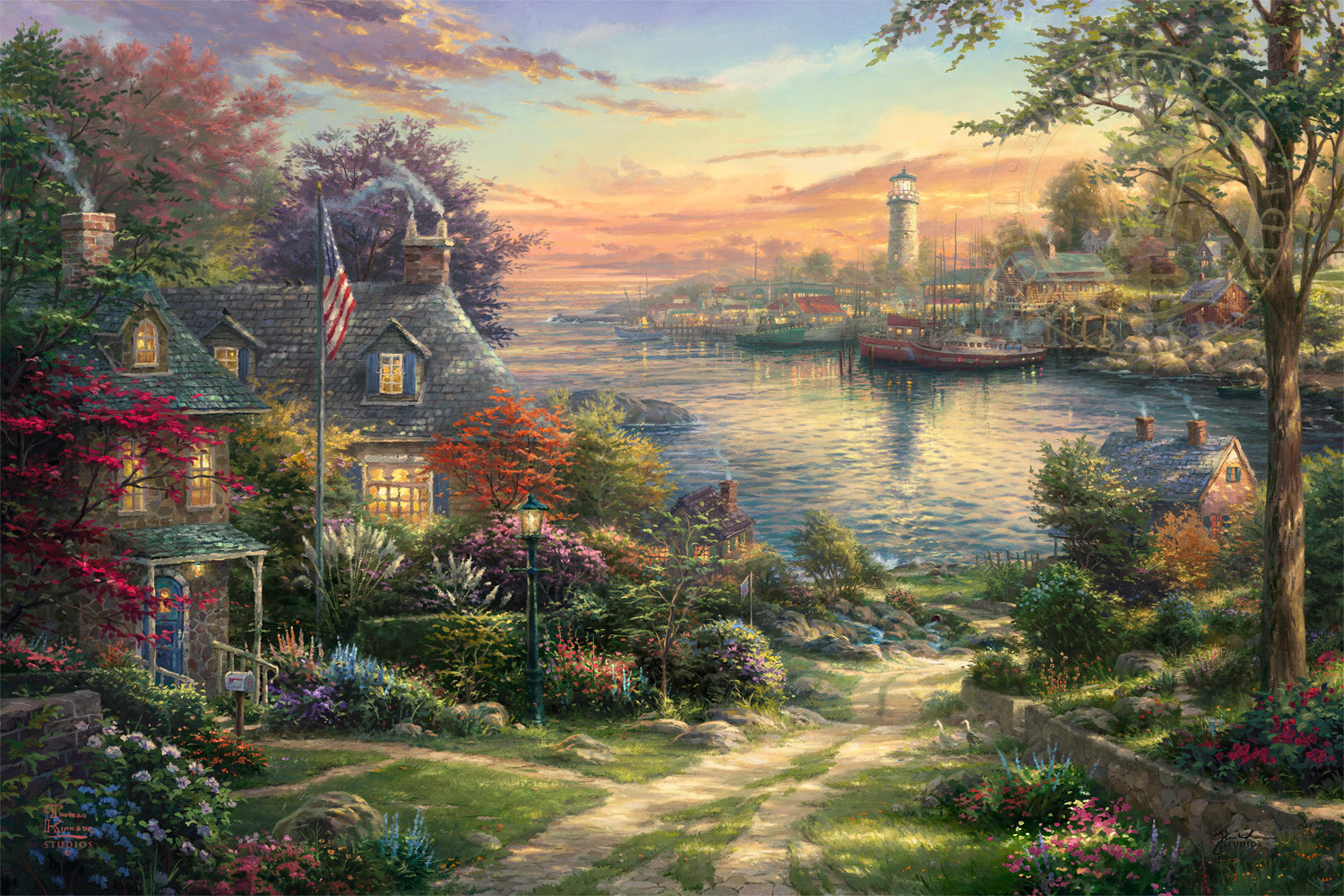 Art Notes
New England Harbor charms visitors with pristine scenery and epic views of where land meets sea. This picturesque village is
known for its beaconing lighthouse and cozy cottages that give the town its storybook feel. Sightseers can stroll along the docks and spend the day on foot exploring its charming shops or rocky beaches. A radiant glow from the rising sun lights up the scene, touching the brick and granite laden homes and lighting up the blooming flora, the perfect place to find harmony in one's life.
Key Points
• After gearing up at the bait shop, you can choose your own adventure this morning. Will it be a day out fishing in the open ocean or a trip out on your own rowboat along the coast?
• Classic Thomas Kinkade light posts, flora, and fauna are spread throughout the scene; paying tribute to the man who started it all.
• This small coastal colonial community portraits its American flags proudly. Reminding us of the God-given freedoms handed down to us from our forefathers.
• The lighthouse is a powerful symbol that has been consistently used in the artwork of Thomas Kinkade Studios. As the spiritual metaphor often used by Thom, a lighthouse can be thought of as a guidepost in life, one operating in the face of personal trials and tribulations.
• In the distance, a long narrow jetty protects the coastline and the harbor village while creating one of the best fishing spots in town.
Copyright: © Thomas Kinkade Studios. All rights reserved.
Title New England Harbor
Painted 2018
Published 2018
Classification Thomas Kinkade Studios