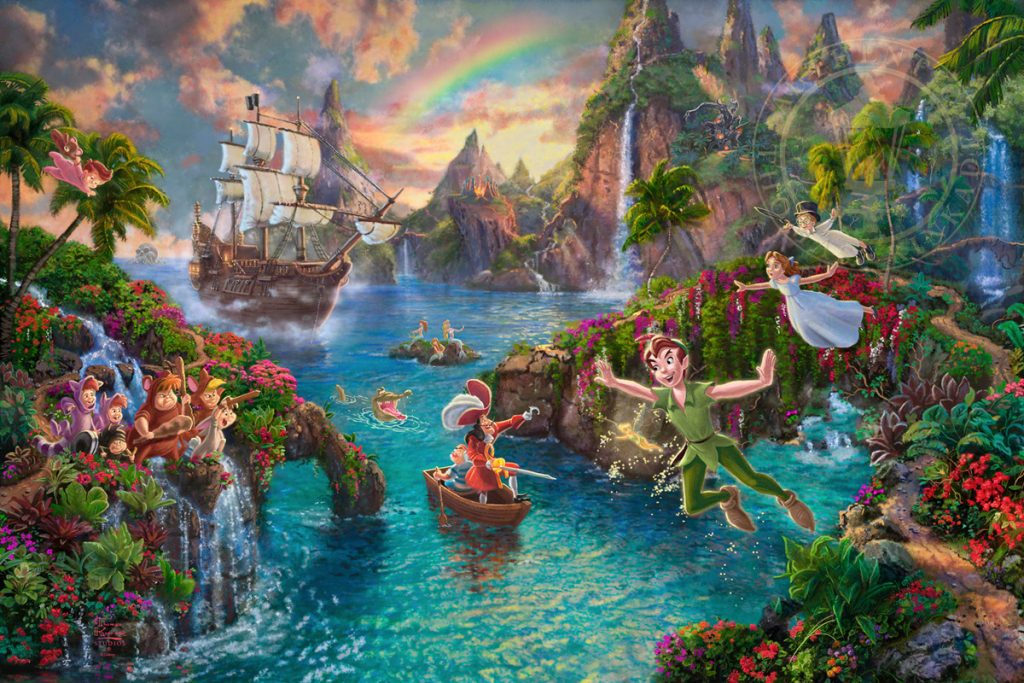 Liven and brighten up any space with whimsical Disney paintings from your California Thomas Kinkade galleries. Our Carmel, Monterey, and Placerville locations carry magical depictions of all of your favorite Disney movies, stories, and characters. 
Grow Up? No Way!
Why grow up when you can stay young at heart with Alice, Peter, Mowgli, and Pinnochio? Adults and kids alike have a lot to worry about these days. We invite you to escape into a world of art and imagination with our Disney paintings.
Make New Fun & Furry Friends
We all go through growing pains, bullying problems, and family life. Walt Disney's quirky animal protagonists paint some of life's most significant issues with humor, hope, and fantasy. Our whimsical Disney art captures these courageous creatures in enchanting settings you'll want to explore again and again. 
Your "Happiest Place On Earth"
Your next daydream could be just a painting away. No time for a California or Florida vacation just now? Our collection of whimsical paintings includes both Disneyland and Disney World fine art. The excitement of Main Street, your favorite iconic princess castle, or reminders of that ride with the song that gets stuck in your head. 
Get lost in the happy crowd without the noise or the lines with these paintings on canvas.
Start Or Complete A Collection
Art collecting is a great pastime to share with your spouse, kids, or grandkids. Whimsical Disney wall art makes this hobby even more delightful. Your most beloved characters can pass from the hearts of one generation to the next. 
We know making your mind up is often the hardest part of visiting our fine art gallery. When you're a collector of all things Mickey and friends, you know your next bit of whimsy is just one Kinkade new release away. 
Make Gifting A Pleasure
Disney gifts always bring a smile. Birthday gifts, Christmas gifts, appreciation, thank you, and anniversary gifts are all that much easier to figure out when you choose fine art. They'll love it, and you can feel confident in the thought that you're giving an heirloom-worthy keepsake your recipient will enjoy for years to come.
Bring The Happy Home
Our California galleries are famous for high-quality Disney-themed decor. Choose whimsical nursery decor, kids' room decor, playroom, or game room wall art. Bright colors, attention-catching details, and sweet, sassy, fantastical stars are waiting to breathe a little bit of fairytale into all of your living spaces.
Your California Source For Disney Art
Visit our California art galleries today to browse whimsical Disney paintings you have to see to believe. With Thomas Kinkade locations in Carmel, Monterey, and Placerville, we're sure to have a showroom close to you.