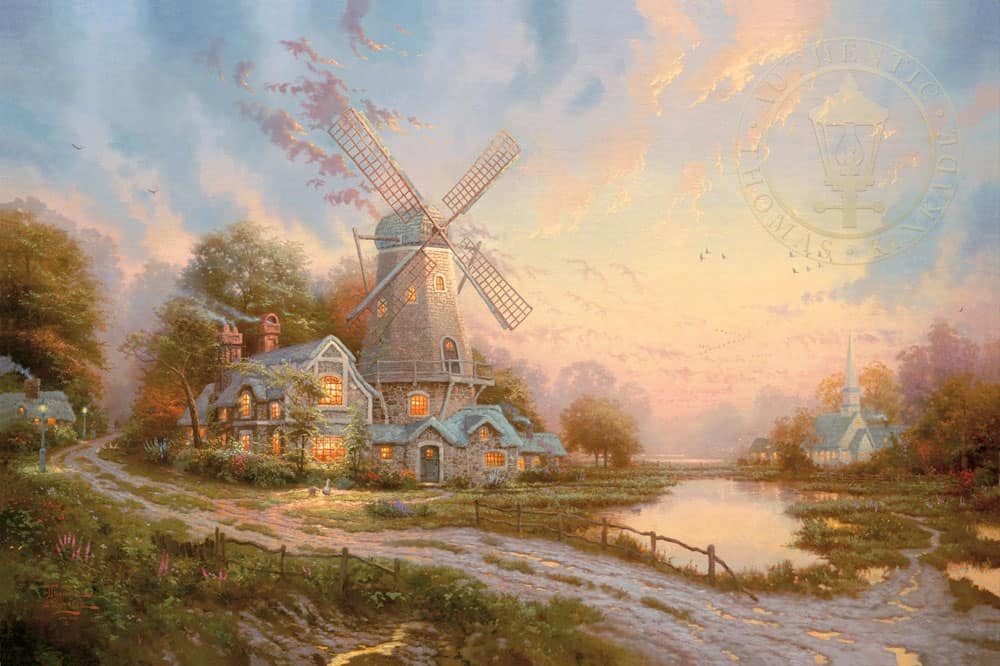 Love the lines of sleek, minimalistic Scandinavian decor and the eclectic vibe of a cozy, lived-in cottage? Then modern rustic decor might just be the design trend you've been waiting for. Clean, neutral, open spaces and vintage contemporary furnishings have finally met their match in florals, farmhouses, and small-town charm.
At the Thomas Kinkade galleries of Carmel, Placerville, and Monterey, we invite you to explore our Limited Edition wall art collection to accent those modern rustic vibes.
Hey There, Nature – You're Invited
Break up straight lines and muted colors with bright, organic artwork. You can't get much more colorful and free-flowing than scenes from nature. Display lush gardens in bloom with Eternal Springtime, or choose brilliant and beautiful with A Perfect Yellow Rose.
Let A Little Sunshine In, Even On Cloudy Days
White kitchens and simple wooden dining furniture can go from lacking to lush with the softness and cheer of the sun-dappled scenes in Glory of Morning and Beyond Autumn Gate. You don't have to install vintage paneled walls or exposed beams to get a little more rustic. Just display the well-used gateway standing among potted and wildflowers in Hidden Cottage II.
Farms & Barns For A Touch Of Country Chic
For those of us who love the idea of country life but could never actually leave the comforts of the bustling city, bring the farmhouse home through modern rustic mill and barn paintings. You can almost hear the bees buzzing and the warm breezes blowing in Red Barn Retreat and The Wind of the Spirit.
Modern Rustic Wall Art In California
Modern Rustic decorating is all about meshing a manicured space with the little details that turn a house into a home. Stop by your local California Thomas Kinkade gallery in Monterey, Placerville, or Carmel today to fine paintings in a variety of themes and colorways to embrace your new trendy look.