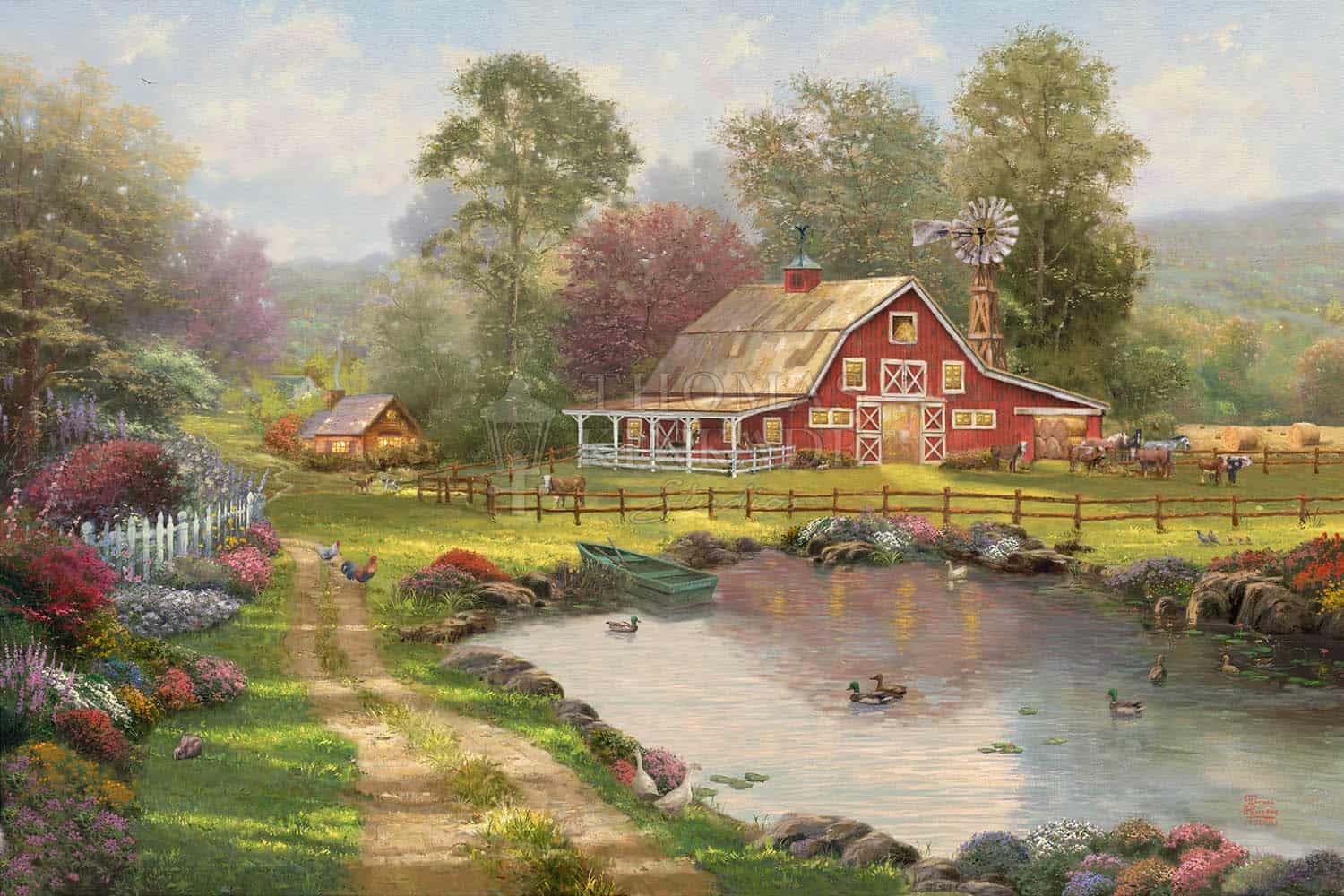 Art Notes
A walk on a farm brings a symphony of sights, smells and sounds to the senses. The aroma of fresh mowed hay, the whinnying of horses, and the abundance of baby animals is sure to bring a smile to everyone's faces. Thomas Kinkade grew up in farm country and the smell of new hay was a treasured memory of his. He always dreamed of owning his own slice of heaven one day.
Thomas Kinkade Studios sought to capture Thom's vision of the pastoral life. In this painting, morning light filters through the trees casting a warm glow onto the farm. The horses and cows are milling about waiting to be turned out to the pastures after being fed. The ducks, chickens, bunnies, and dogs are happily starting their day. Thomas Kinkade Studios is pleased to present Red Barn Retreat, where we all discover the sweet smell of hay and something more – a sense of perfect tranquility.
Key Points
Thomas Kinkade's sold-out painting, Sunset at Riverbend Farm, painted in 1996, was his perfect, serene depiction of a working farm.
Red Barn Retreat is the second in the Riverbend Farm Collection.
Thom always talked about purchasing a farm retreat and wanting to raise alpacas. If you look carefully, you will see a small herd of alpacas tucked safely near the front of the barn.
Thomas Kinkade Studios painted a small cottage near the barn similar to the one on the Kinkade ranch. Thom would use this cottage as his painting studio when the family was on the ranch.
Copyright: Art Brand Studios, LLC. © Thomas Kinkade Studios, All rights reserved.
Title Red Barn Retreat
Published February 2020
Collection Riverbend Farm