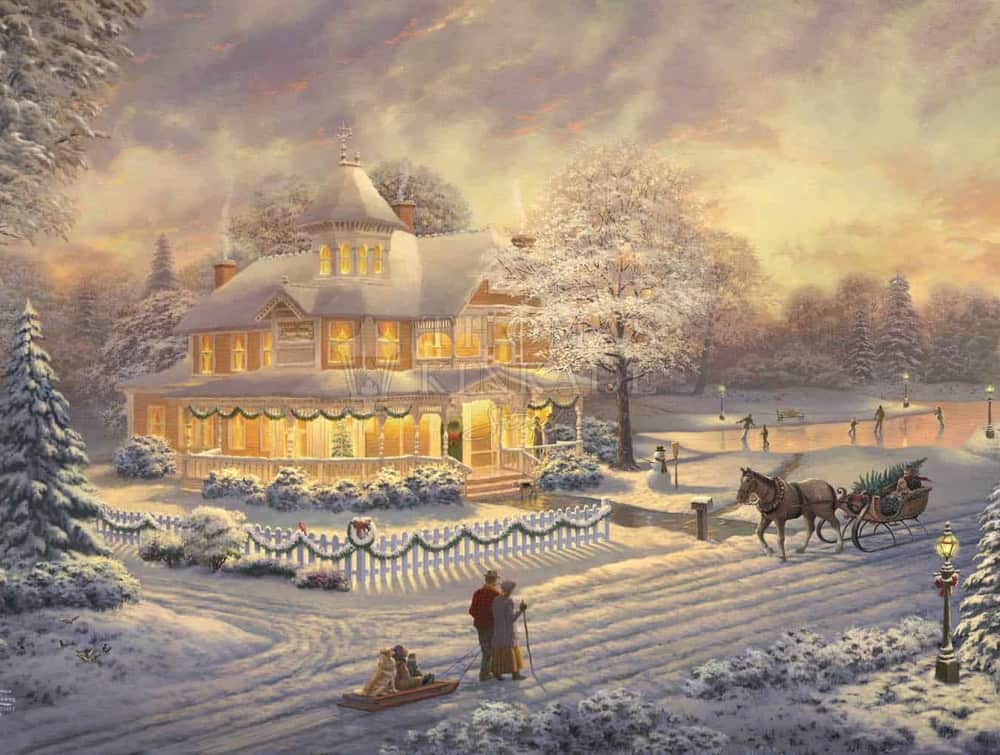 Experience the holiday charm of yesteryear with Victorian Christmas paintings from our Thomas Kinkade art galleries in Monterey, Placerville, and Carmel. Whether you are looking to add some delightful decor to your home or you want to spread some holiday cheer around your office, you'll find festive paintings to enhance any space as you browse through our collections.
Decorating With Victorian Art
Horse-drawn buggies, stately, well-decorated homes, friends and neighbors bundled up for an afternoon stroll – our Victorian Christmas paintings are filled with a cozy charm of simpler times. Consider bringing some of this quaint beauty into your space this holiday season.
Charming Winter Scenes
Immerse yourself in a festive winter wonderland with Victorian wall art. Thomas Kinkade's first painting in the Old Time Christmas Collection, A Victorian Christmas Carol, brings this joyous season to life on a street filled with cheerful neighbors, a horse-drawn buggy, and even a few furry friends.
Paintings – The Perfect Holiday Gift
Are you looking for a gift for the holiday enthusiast in your life? Maybe you'd like to give your mom a charming winter scene for her bedroom or office. Perhaps you're looking for a piece of nostalgia for Grandma. We carry holiday paintings that appeal to recipients of all ages.
Victorian Wall Art At Thomas Kinkade
Visit one of our Thomas Kinkade art galleries in Monterey, Placerville, and Carmel, today. See the charming details our talented artists have put into each painting up close. Not only is our wall art beautiful, but each one is made with high-quality materials that are made to last. Bring home one of our Victorian themed paintings today to enhance your home or office Christmas home decor.