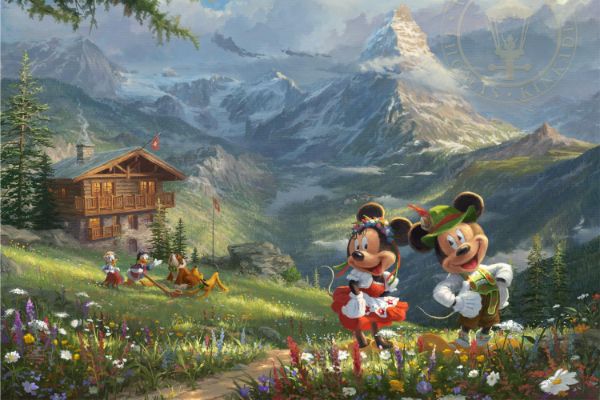 When spring rolls around, many of us are ready to replace snow drifts with bright flowers, fun, and whimsy. While it may take some time for spring to be in full bloom, if you're a collector of Thomas Kinkade's Mickey and Minnie Mouse art, the splendor of spring lives in your home year-round.
If you haven't yet started collecting Minnie and Mickey Mouse paintings, here are a few pieces to add to your home art gallery. They exude the warmth of spring and the nostalgic fun that only comes from Disney.
1. Disney 100th Celebration
Spring is a time to come alive again, dance, and celebrate. This piece features Mickey and Minnie Mouse dressed for the ball in their finery, dancing the night away under a show of lights and streams of confetti. It's a joyous piece that heralds a new era, just as spring heralds a new season.
2. Disney Mickey & Minnie In Mexico
This Passport to Adventure piece is a cross-cultural wonderland. Our favorite pair of fun-loving mice have swapped their familiar outfits for something more festive and seasonal for a celebration among friends with Pluto, Goofy, Daisy, and Donald Duck. This is a cheerful addition to any home art gallery, featuring the colors of a Mexican fiesta and a lot of Mickey Mouse joy.
3. Mickey & Minnie In The Alps
The hills are truly alive with the sounds of adventure in this Thomas Kinkade Disney piece. We get a close-up view of the Disney mice as they stroll up and down the trails of the Swiss Alps. Their traditional Swiss travel clothes and the explosion of wildflowers on the hills make this a must-have for art collectors who love to travel far and wide.
4. Mickey & Minnie – Sweetheart Campfire
One of the things we miss most about the warm weather is sitting out under the stars, enjoying the smell of the fragrant spring flowers, and hearing the song of frogs in fresh-water ponds. As far as Mickey paintings go, it's hard to beat the joy and magic in this one. Details like the glowing campfire, the old-fashioned car, and the beauty of the sky just after dusk hearken back to the sweet spring nights of childhood.
Brighten Your Spring Days With Minnie & Mickey Mouse Paintings
The Thomas Kinkade Disney series offers collectors the chance to decorate their walls with some of the most beloved characters of all time. Mickey and Minnie have entertained us for over 100 years, bringing the joy of spring to our lives no matter the season. If you'd like to collect one of these Mickey Mouse paintings or others, visit one of our galleries in Carmel, Monterey, or Placerville today to speak with one of our art consultants.