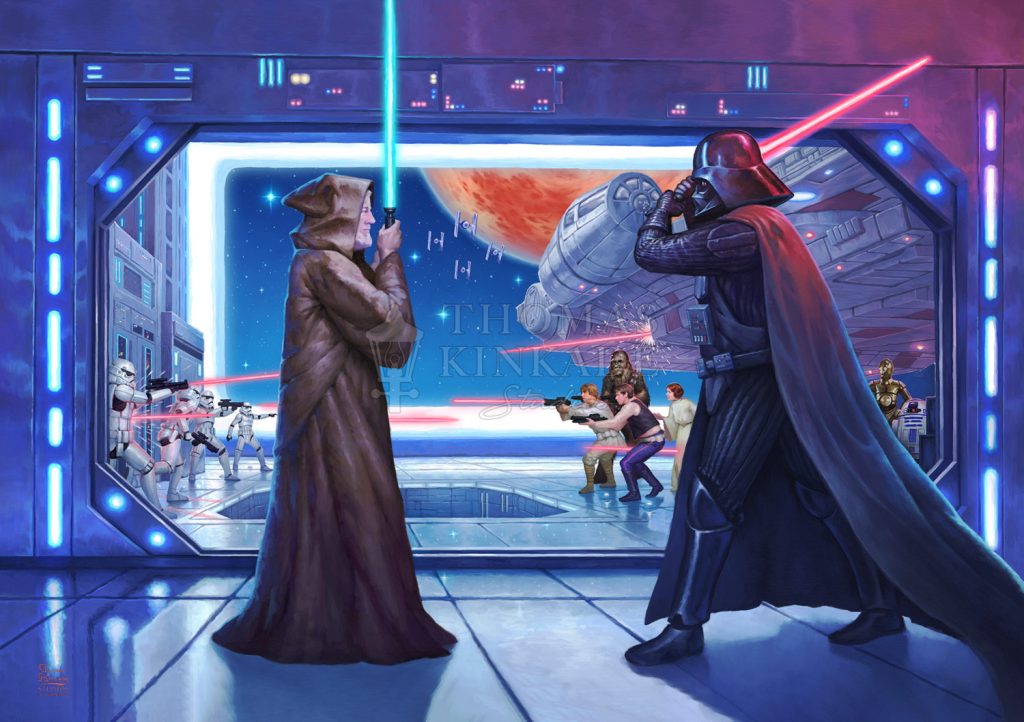 Elevate your home decor and gifting cred with stellar Star Wars art from the Thomas Kinkade galleries of Carmel, Monterey, and Placerville. Some people look up at the night sky and see an immense void. The sci-fi and fantasy fans in your life see a setting for interplanetary adventure. 
Now, you can find their favorite characters, spacecraft, and cosmic destinations at a California Kinkade fine art gallery near you.
Love Star Wars? It's time to replace those old posters with Limited Edition fine art from Thomas Kinkade.
Our Star Wars Wall Art
Since their inception in the 1970s and 80s, the Star Wars movies have transformed from instant hits to a legacy. Related fandoms and even family traditions only continue to grow today. We pass these timeless stories of self-discovery and struggle down from generation to generation. 
Wall art is the perfect way to introduce younger fans to this intergalactic saga and express your love of everything Jedi™, Sith™, and astronomical warfare.
The Heroes & Villains Of A Galaxy Far, Far Away
Are you team empire or team rebel? Our Star Wars paintings feature beloved personalities from both sides of the battle. Each central conflict is carefully and masterfully detailed. You'll find even more of your favorite Star Wars characters enriching the backdrop of every piece in this canvas artwork collection.
Imperial Stormtroopers™

Emperor Palpatine™

Darth Vader™

Obi-Wan Kenobi™

Luke Skywalker™

Princess Leia™

Han Solo™

Chewbacca™

C-3P0™

R2-D2™
Rebels Vs. The Galactic Empire
Get your fill of futuristic aircraft with the Millennium Falcon™, Imperial TIE Fighters™, and Rebel X-wings™. Take a sightseeing trip to Planet Yavin™ or the ice planet of Hoth™. And don't forget your front row seats to some of the most pivotal battles between the Force™ or the Dark Side.
General Veers'™ Imperial AT-STs™ and massive AT-ATs™ face off against Luke Skywalker™ and the Rebel Squadrons in The Battle Of Hoth. This explosive battle is literally heating up amidst freezing dunes and frosty snowdrifts. Will the ice shields of Echo Base last? 
In Obi-Wan's ™ Final Battle, Obi-Wan Kenobi™ and Darth Vader™ position glowing Lightsabers™ in anticipation. A laser gun battle rages on between Stormtroopers™, Princess Leia™, Han Solo™, Chewbacca™, and everyone's favorite droids. 
Sparks fly in A Son's Destiny as Darth Vader™ and Luke Skywalker™ clash under the watchful eyes of Emperor Palpatine™. It's hard to tell which conflict is more dire. The one in Cloud City or the aerial combat happening on the other side of the window.
Gift Ideas For Star Wars Fans & Functions
Our Star Wars art on canvas makes gift giving for so many occasions, easy. Father's Day gifts, birthday gifts, groom's gifts, and housewarming gifts for geeks. What better way could there be to accent Star Wars-themed parties or Star Wars-themed weddings? After the event, you or your recipient gets an heirloom-worthy keepsake full of memories.
Space Fantasy Home Decor
Planning on Star Wars themed nursery decor? We have fine art options to feed your fandom and plant seeds for the next generation. Decorate the kids' rooms, teen hideaway, game room, family room, man cave, college dorm or first apartment in ways that really reflect your personality. 
Epic Star Wars Art In California
Spread a little more space dust around the house or office. Give a gift that will stand out. At Thomas Kinkade in California, we invite you to experience the beauty of Limited Edition Star Wars art. Your local fine art gallery is as close as Carmel, Monterey, or Placerville.