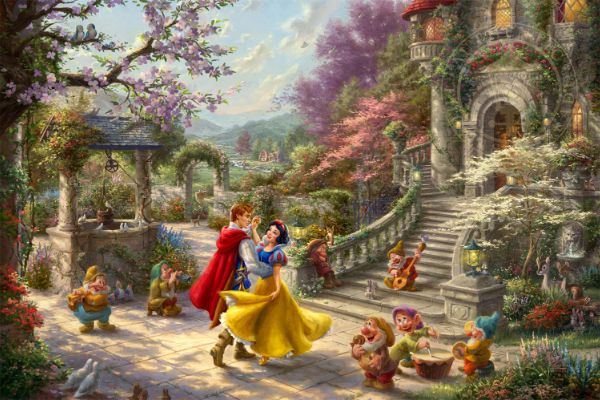 Disney princess fans, why not add a bit of magic and whimsy to your home decor with Snow White paintings? These enchanting scenes showcase all your favorite characters and timeless settings from the film in beautiful detail.
Our Snow White Art Collection
Snow White Cottage Paintings
Who can forget the relief on Snow White's face as she approaches the cottage of the seven dwarves? Lost in the forest and newly left on her own by the hunter sent to end her life, she sees much more than a cute little home. She sees sanctuary during a time of struggle.
In Snow White Discovers the Cottage, a sweet little fawn and rabbit join our princess just a river crossing away from the dwarves' cottage, snuggled invitingly in a sun-dappled clearing. The Prince's castle is like a faraway dream in the backdrop.
Wall Art Starring All Seven Dwarfs
Can you call it a Snow White art collection if there are no dwarves? We don't think so, either. In Snow White and the Seven Dwarfs, Thomas Kinkade Studios has carefully captured the personality of each minuscule man. Gems sparkle and shine as the princess's protectors work hard in the mine – or hardly working in the case of Sleepy.
Can you spot the princess ready to invite her new friends in near the warm glow of the cottage? Uh, oh! Watch out, the evil queen approaches in disguise. Behind all the action, the Prince's castle beckons quietly.
Romantic Home Decor Starring Snow White & Her Prince
Complete this Disney princess painting collection with the happily ever after depicted in Snow White Dancing in the Sunlight. Our fawn has found a friend, the birds are all paired up, and our princess dances joyfully with her prince. The colors and happy expressions in this painting are abundant, and you can almost hear the tune the dwarves are playing and see the princess's dress twirling.
This magical moment would look fantastic in a child's room, family room, or classroom setting.
Shop Disney Princess Wall Art In California
Cinderella, Sleeping Beauty, Arial, and Elsa – we have collectible Disney fine art depicting all your favorite Disney princesses. Stop by our California Thomas Kinkade Galleries in Carmel, Monterey, or Placerville today. Let our Art Consultants know which princess you're interested in, and we'll help you choose the Limited Edition scene, the size, and the frame to capture it all for gifting or displaying.