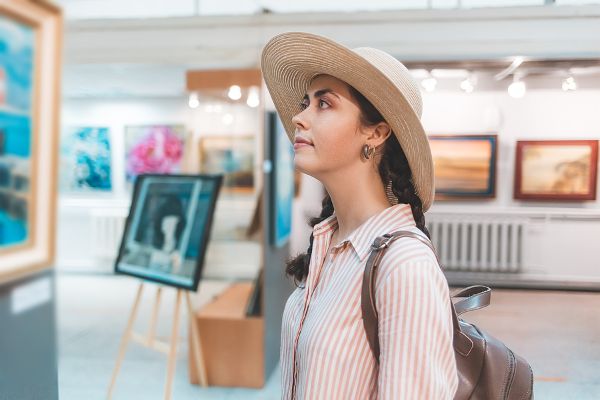 From the coastal chic of Carmel to historic Placerville and many other destinations, California is full of an endless array of extraordinary things to see and do. And while we often think of the sun, sand, and surf with mention of the Golden State, California is also a premier destination for art lovers.
Whether you live in California or you're planning a visit, read on for a roundup of reasons to add a visit to a California art gallery to your itinerary.
Make discoveries.
Cultivate a collection.
Find an escape.
Socialize with other art lovers.
Gain a new vantage point.
Boost your brain.
Increase emotional intelligence.
Support local artists.
1. You'll discover new and local artists
While museums are an excellent way to experience mainstream artists, galleries often feature local, lesser-known, and emerging talents. And because their collections are evolving, there's always something new to discover.
2. You can start or cultivate your collection
Collecting art is a rewarding hobby. Whether you're a longtime collector or just getting started, galleries are fantastic destinations for finding alluring new art. Many, like Thomas Kinkade, also offer financing to help you afford your purchase.
3. You'll escape from the everyday
Art is an escape from the hustle and bustle of everyday life. When you visit a gallery, you immerse yourself in an entirely different world. If you're overwhelmed or feeling stressed, it can take your mind off your problems.
4. You'll be surrounded by fellow art lovers
In addition to offering the chance to browse art side by side with other enthusiasts, many galleries also offer events where you'll have the opportunity to meet and socialize with other attendees.
5. You'll gain new perspectives
Art represents a broad range of unique aspects, influenced by everything from the artist's upbringing to the local culture. When viewing art wherever you travel, you'll be exposed to many fresh perspectives.
6. You'll get a brain boost
Did you know that when you look at art, your brain changes? In fact, brain scans reveal that looking at art can increase blood flow to the brain by an impressive 10 percent, according to The Telegraph. That's the same increase that occurs when you look at someone you love!
7. You'll increase your emotional intelligence
Earlier, we mentioned that art is an escape from everyday stress. However, it's even more than that.
When you let your mind go while exploring a fine art gallery, you'll stop focusing on negative emotions and start thinking more abstractly. This can help you regulate your emotions toward heightened emotional intelligence.
8. You'll support local artists and economies
Buying local work from galleries benefits local communities in many ways. In addition to supporting the people making it, you're also supporting the gallery. Moreover, you won't be just buying an "anonymous" piece.
Visit Thomas Kinkade Signature Galleries
California's renowned Thomas Kinkade Signature Galleries have paintings by local artists in intimate settings. You'll have a much better sense of the artist or the painting you purchase—and you'll feel this connection every time you admire it in your home.